bolognese pasta sauce (gf, df)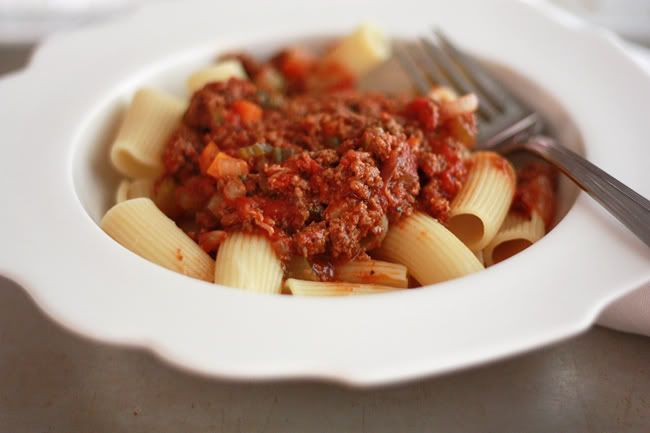 I can hardly believe it, but I'm FINALLY posting a recipe! It's been ages. Michael and I have both felt it. We've been working with a pediatric gastroenterologist who suspects that Sophie is also likely suffering from some food allergies.
Consequently, I've been on an allergen elimination diet for the past three weeks, and will continue to be on it for at least two more. For the first several weeks, I was off dairy, soy, eggs, wheat, nuts (peanuts and tree nuts), fish, and shellfish. I've gotten back wheat, nuts, fish, and shellfish, which feels like a big victory. Unfortunately, we're now eliminating oats, corn, peas, and green beans (in addition to dairy, soy, and eggs).
I've been relying pretty heavily on a hearty bowl of oatmeal to fill me up in the mornings, so it was a hard one to let go of. Corn is also really difficult–not so much for the actual vegetable, but because every sauce or packaged product or cereal known to man seems to have high fructose corn syrup or corn oil in it. Oy.
Still, with wheat in my arsenal, and the encouragement of the gastroenterologist to try eating "normal" things like tomatoes, and onions, I decided to make something for dinner. The answer, my friends, was bolognese.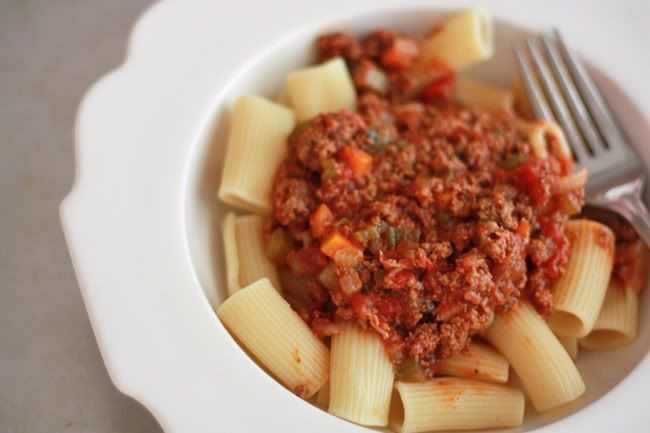 I can't tell you exactly why I felt like making a sauce that simmers for 2 1/2 hours in the middle of a 100+ degree day. All I know is that tonight, I sat down to an actual dinner for the first time in ages. And it was homey and hearty and close-your-eyes good.
Although the sauce takes a while to simmer, it doesn't require much attention (heck, I'm juggling a 3-month old who still needs me for pretty much everything) and it's completely worth it. The slow simmer really brings out a richness in the sauce that you can't achieve without that extra time.
Notes on the recipe: bolognese is often made with the addition of whole milk, cream, or half-and-half. I used almond milk and it was delicious and had a great texture, so if you're dairy-free, this is a good substitute. If you can't find pancetta, you can use a mild-flavored bacon instead. Also, be sure that you do dice the vegetables very fine as you want the sauce to have a fine texture rather than large pieces.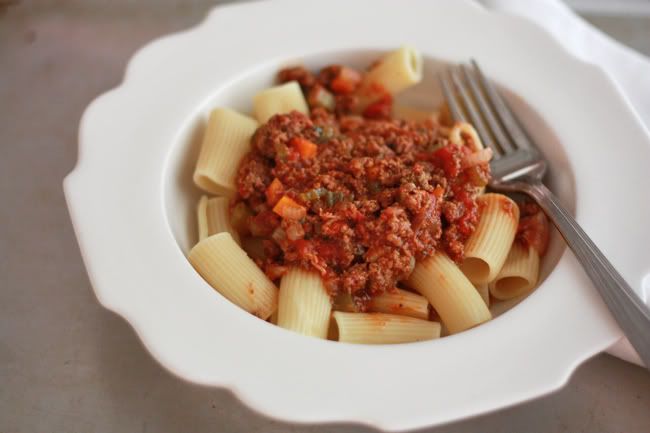 Print
Bolognese Sauce
---
1

lb ground beef (

85/15

or leaner)

2oz

pancetta, diced or sliced*

1

stalk celery, very finely diced

1

carrot, very finely diced

1

medium onion, very finely diced
olive oil

1

(28oz) can whole tomatoes, undrained

1/4tsp

dried oregano

1/2tsp

garlic salt or

1/4tsp

garlic powder
pinch cinnamon (trust me)
salt and pepper to taste (I used 1/2-1tsp each)

1/4

c half-and-half, whole milk, or almond milk
---
Instructions
In a large Dutch oven or soup pot, brown ground beef. Remove from pot and drain any fat. Add a small drizzle of olive oil to the pot and cook pancetta, celery, carrot, and onion until onion is translucent. Return ground beef to pot and add tomatoes and their juices, oregano, garlic salt, cinnamon, and a sprinkling of salt and pepper. Stir in half-and-half, and bring sauce up to a boil. Cook 5 minutes, stirring often to break up the tomatoes.
Reduce heat to a simmer. Simmer sauce about 2 1/2 hours, stirring at least every 20 minutes or so. If you find the sauce is getting too thick or is starting to stick to the bottom of the pan, you can add a small drizzle of water (this wasn't a problem for me).
The sauce should look quite thick and meaty. Serve with your favorite pasta and top with parmesan cheese.
Notes
*For gluten free, be sure your pancetta is gluten free.