smoked paprika pan-roasted potatoes (gf, df, v)
 I live in the desert, a place which is currently thinking about being monsoon-ish. It's apparently having a really hard time deciding whether or not to rain. It's been a stalemate for weeks. Consequently, the weather has settled somewhere in the middle, which means it's been triple digits and sticky off and on. While I do NOT relish the stickiness, the rain and overcast days are kind of special.
When I live somewhere (like the desert) where it's sunny all the time, rainy days become less of a nuisance and more of an excuse to hole up inside and enjoy them. All my homebody genes come out in full force and I find myself wanting all the most homey foods.
These really fit the bill.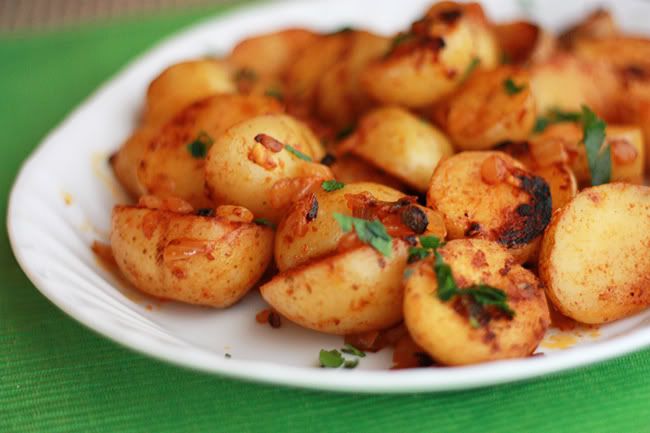 I've had my eye on something like this for ages. I wanted a crispy roasted potato. In an ideal world, one that included loads of parmesan cheese, but alas, Sophie and I are still dairy free. So, plan B. Crispy potato with lots of flavor. Enter: smoked paprika. Thank you Pinterest. (These were one of my first pins–p.s. are you on Pinterest? I'm smitten.)
If you've never had smoked paprika before, I highly recommend it. It's got a great deep flavor with just the right smokiness. There really isn't a substitute for it, so you can't get the same effect with regular sweet paprika. It's one of those "fancy" spices that is worth the purchase. I'm also expanding my smoked paprika recipe repertoire, so hopefully I'll have more ideas for ways to use it soon.
In the meantime, here's what you need to know: it is delicious. These potatoes are delicious. We ate them on Meatless Monday paired with a salad and fruit and it was a perfect meal. If you like, though, they'd pair nicely with nearly any meaty main dish–fish, chicken, beef, pork, you name it. Whichever way you fancy eating them, you'll love them.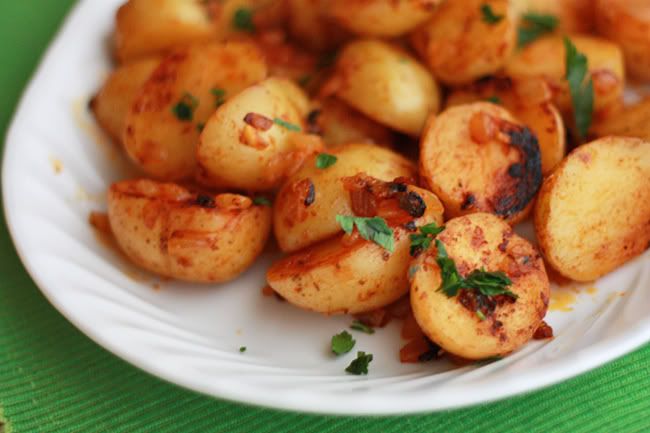 Print
Smoked Paprika Pan-Roasted Potatoes
---
1

lb. baby potatoes, scrubbed and halved (don't peel)

2 Tbsp

olive oil

1/2

medium onion, diced

3

cloves garlic, minced

2 tsp

smoked paprika

1

c water
salt and pepper to taste

1

–

2

Tbsp fresh parsley, minced
---
Instructions
In a large pan (choose one with a lid), heat 1 Tbsp olive oil over medium heat. Saute onion until tender, about 5 minutes. Add garlic and paprika and cook until fragrant, about 1 minute more. Add potatoes, water, and about 1/2tsp salt to the pan. Cover with lid and bring to a boil. Reduce heat to a simmer and cook until potatoes are tender, about 10-12 minutes.
Remove lid and increase heat to medium. Continue cooking until liquid evaporates, about 5 minutes longer. Add an additional Tbsp olive oil to the pan and stir to coat potatoes. Cook until potatoes are deep golden color and crisped on the outside, about 5 minutes (this works best if you don't stir the potatoes much while they crisp up).
Sprinkle with fresh parsley and add salt and pepper to taste.
Adapted from The Bake-Off Flunkie