honey mustard pecan-crusted cod
(What a mouthful! I just couldn't think of anything better to describe it.)
I've made a great discovery, dear reader. Fish fits quite easily into my Lots-of-Things-Off-Limits nursing diet. We had a wonderful teriyaki salmon (salmon + teriyaki sauce) two weeks ago, and I had the hankering for more fish.
Fish can be tricky, since it goes so well with citrus, which has been on the banned list, but when I got the idea in my head that I wanted something with a crispy topping and honey mustard, I came up with this.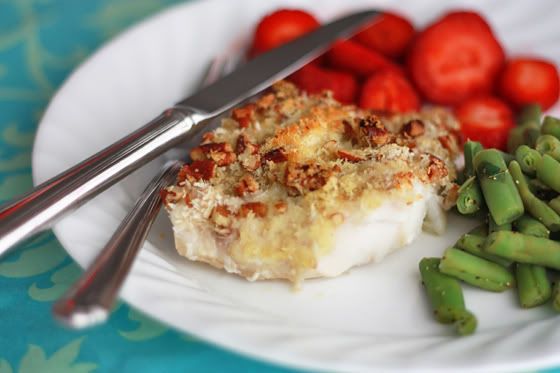 I found a great deal on cod fillets at my grocery store and pounced on it. I usually buy frozen fish since I live in the desert and "fresh" here doesn't mean the same thing it does when you live somewhere where actual fishing occurs. When I can, I like finding the individually-wrapped fillets, since they often come in similar thicknesses, which makes cooking them easily much easier. You can use whatever you like.
This would be really good with fresh parmesan in the crumb topping, so I've included that in the ingredients list, but if you're avoiding dairy or don't have it on hand, you can feel free to leave it out.
We ate ours with green beans and strawberries, but you could dress things up with a side of risotto and a salad if you prefer.
A note for mustard haters: Michael hates mustard, especially Dijon, and he really liked this. The mustard flavor is mellowed out by the honey and mayonnaise and is spread in a pretty light layer onto the fish to act as the binder for the bread crumbs. Don't be afraid! Give it a go.
Print
Honey Mustard Pecan-Crusted Cod
---
4

(4oz) cod fillets, patted dry

1 Tbsp

Dijon mustard

2 Tbsp

honey

1 Tbsp

mayonnaise

3/4

c panko bread crumbs

1/4

c chopped pecans

1/4

c freshly grated parmesan

1/4tsp

salt
olive oil, for drizzling
---
Instructions
In a small bowl, combine Dijon, honey, and mayonnaise until smooth (alternatively, you can use prepared honey mustard). In a shallow bowl or plate, combine panko, pecans, parmesan, and salt.
Brush honey mustard over the top of each fillet and dip (honey mustard side down) into the bread crumb mixture to coat. Place fillets on a baking sheet lined with foil. Drizzle with olive oil.
Bake at 450 degrees for about 15 minutes, or until fish flakes easily with a fork.