Heirloom Tomato and Basil Bruschetta
I can hardly even think of the movie Julie & Julia without getting incredibly nostalgic and sentimental. Every time I watch it, I can hardly stand how much Meryl Streep's Julia Child seems like someone I could be very good friends with. (*side note: I didn't love the book as much. It wasn't as sweet and cute as the movie)
Anyway. Julia.
Even before I started blogging about food, I felt a certain connection to cooking. It is something I identify with. It's like this magical way of poking a tiny hole in the huge balloon of stress and chaos that builds up every day and slowly releasing it until I can breathe again. The 10,096 thoughts in my head are quieted away by sizzling saute pans and the perfect knocking sound of a wooden spoons scraping the browned bits off the bottom of an enameled Dutch oven. It's instant aromatherapy and at the end of the (usually) short-lived experience, I get to sit down and eat something beautiful, wholesome, and filling. The entire making and eating process is so cathartic, I feel incredibly relaxed after a meal.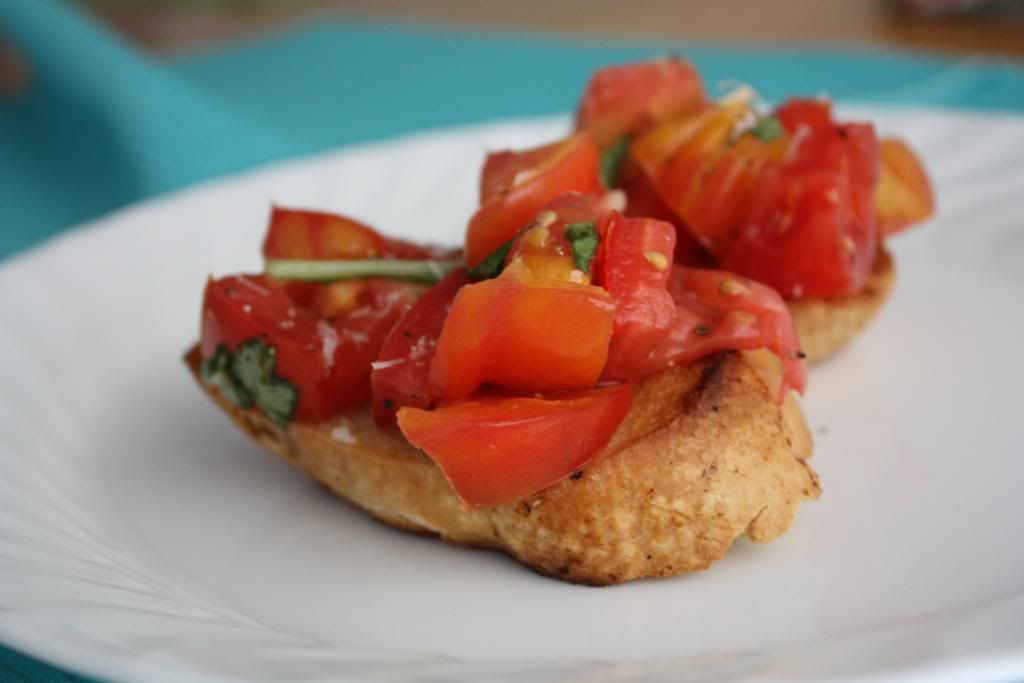 So, you might understand why watching someone like Julia Child discover her love for cooking and good food makes me sentimental. I can't help but love that movie. Like most people who watched it, I found myself staring mouth agape at the apple tarte tatin, the beouf bourgignon, and the whole fish cooked in butter. But Michael and I literally heard gasps around us in the movie theater when Amy Adams' character and her husband eat her heirloom tomato and basil bruschetta toward the beginning of the movie.
And I haven't stopped thinking about it since.
So, I made it for dinner.
Heirloom tomatoes were on sale at my local market and I just couldn't resist.
It was perfect.
Michael's new job is just underway, and it's been a long week of un-packing, moving in, arranging, and dealing with various ordering fiascos. So, when he got off work tonight, it was just plain time. I made a big plate of these and paired them with a simple salad. Top it off with a few homemade fudgy brownies and a good movie, and we couldn't be happier.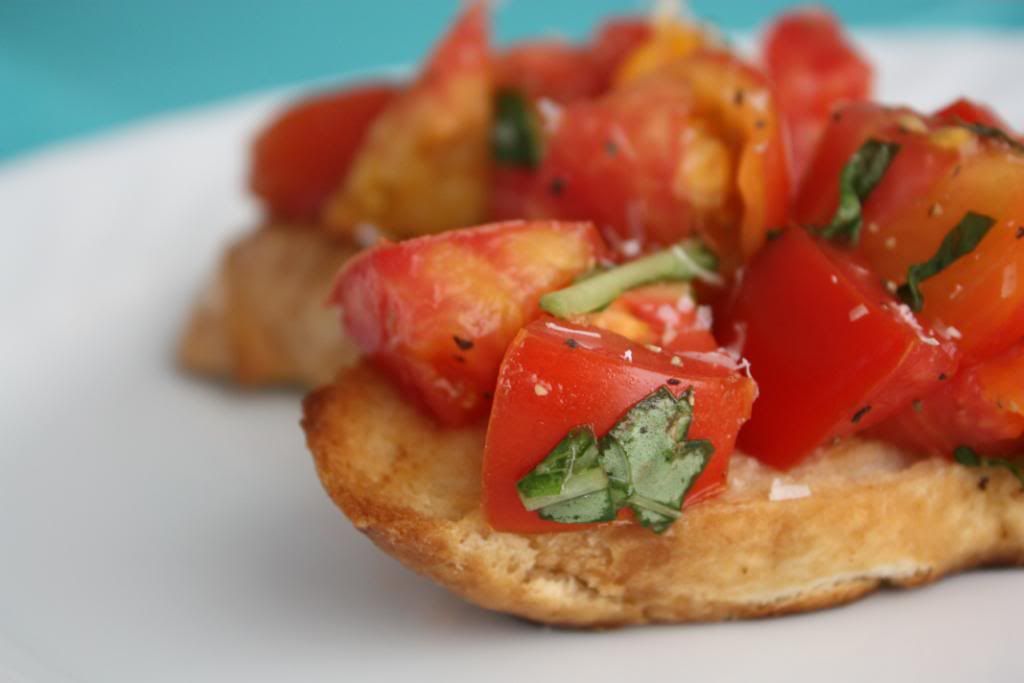 Print
Heirloom Tomato and Basil Bruschetta
---
4

Heirloom tomatoes, cut into a large dice (you can use regular tomatoes, too)

4

–

5

leaves of basil, cut into a chiffonade/ribbons

1

clove garlic, finely minced
coarse salt
coarse pepper
Good quality parmesan cheese (I use Parmigiano Reggiano)

1

–

2

Tbsp butter
baguette, sliced diagonally into slices
olive oil and balsamic vinegar (optional)
---
Instructions
Combine diced tomatoes, basil, and garlic. Sprinkle with salt and pepper to taste. If desired, add a small splash of balsamic vinegar and olive oil and toss to coat (I recommend it).
Butter both sides of each slice of baguette. Cook in a large saute pan over medium heat. Cook 3-4 minutes or until golden brown and turn over. Cook another 3-4 minutes or till golden. Repeat as needed with remaining baguette slices.
Top toasted bread slices with tomato mixture and parmesan and serve.