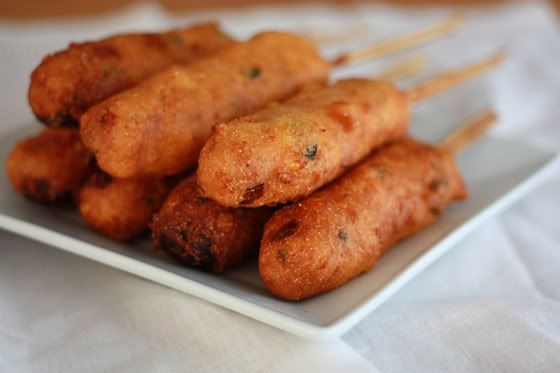 Hello. My name is Emily. And I have a fear of deep frying.
Although certainly I have concerns about how unhealthy deep frying is (we hardly eat fried food even when we eat out), I'll admit the bigger fear in the once-a-year event that I MIGHT deep fry something is the splattering. Oil burns hurt.
Then, there's the concern (even with a thermometer) that the oil is too hot, not hot enough… going to burn down my house…you know…the usual concerns.
So, when Michael requested homemade corn dogs as one of his monthly picks for dinner, I'll admit I was intimidated. Big time.
You might be surprised to learn, then, that it really wasn't a bad experience. And also I didn't get burned once!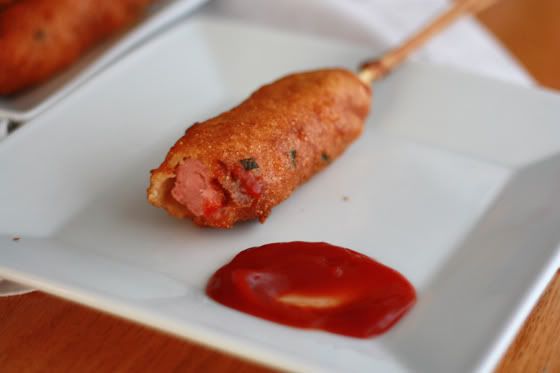 To be fair, poor Michael has wanted to try homemade corn dogs since a few months into being married, when we watched Alton Brown make some on Good Eats. It's been over 2 1/2 years since that episode, and I've deep fried only one thing in that time: orange chicken. Once.
Still, after having a freshly-made corn dog at Disneyland this summer, I can see why he might want to try one at home. So, I (finally) got my courage up to try them this month at his request. We adapted Alton's recipe from so long ago, and man alive, they were DELICIOUS!
The crispy outside and tender inside of the breading was delicious. Also, despite there being both jalapeno and cayenne pepper in the batter, I didn't find these spicy. And this is coming from a spice pansy who is also pregnant (which has somehow magnified my spicy food intolerance). They were delicious and flavorful, and it was probably the best corn dog I've ever eaten.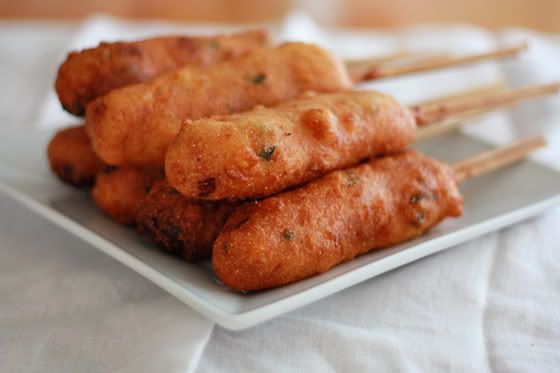 I think the key to not getting burned was taking a few precautions. First, I used my 5-quart Dutch oven to fill with oil. It is sturdy, heavy, and has high sides to help me avoid splatters. Second, I used a thermometer to monitor the heat of the oil. Third, I only used about 1 quart of canola oil instead of the gallon of peanut oil Alton calls for. This was just high enough to completely cover the corn dogs (cooked 1-2 at a time) but not so deep that it was a bubbling, splattering, scary mess. Lastly, I used long tongs to protect my hands. I've heard other people use rubber kitchen gloves (like you'd wear doing dishes) to protect their arms and hands while deep frying, but I didn't find I needed them.
Whether you're nervous about deep frying or not, I'd say these are worth a try at least once in your life. We'll probably make them a once-a-year treat at our house since they were so good and so much less scary than I thought they'd be.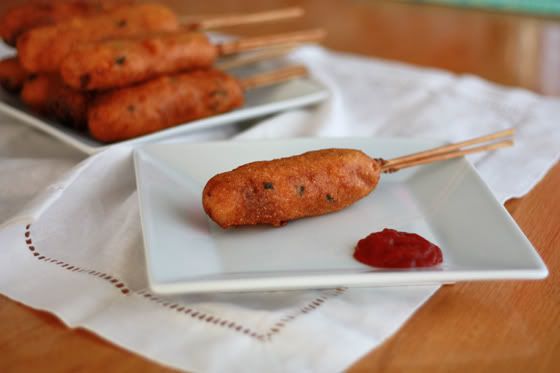 Print
1 1/2

c buttermilk

1

c creamed corn (I used canned)

1

jalapeno, seeded and minced

1

c corn meal

1

c flour

1 tsp

baking powder

1/4tsp

baking soda

2 tsp

salt

1/2tsp

cayenne pepper

1/2tsp

sugar

4 Tbsp

cornstarch

1 quart

canola oil for frying

8

hot dogs (I like nitrate-free)
Other: 16 wooden skewers, cut to fit your pan or 8 pairs of wooden chopsticks
---
Instructions
Pour oil into a large, heavy-bottomed pot and begin preheating to 375 degrees.
In a small bowl, combine buttermilk, creamed corn, and jalapeno. In a separate bowl (I used a medium bowl), combine corn meal, flour, baking powder, baking soda, salt, cayenne, and sugar. Stir well to combine.
Add wet ingredients to the dry mixture all at once and stir until just combined (lumps are okay). Mixture will be very thick. Pour enough batter to almost fill a tall drinking glass (you will use this for battering the hot dogs). Refill as necessary as you work.
Sprinkle cornstarch over a cookie sheet. Working one at a time, skewer hot dogs onto a pair of skewers or chopsticks and roll in the cornstarch. Use your fingers to brush off any excess (you just want a thin, even coating).
Swirl the coated hot dog in the batter, coating evenly and again brushing off any excess batter. Place immediately into the hot oil and cook for 3-4 minutes or until golden brown. Remove with a pair of tongs and set on paper towels or a cooling rack set over a cookie sheet to drain. Repeat with remaining hot dogs.
*Only cook 1-2 at a time so as not to overcrowd the pan or lower the oil temperature too much.
(Adapted from Alton Brown)