roasted asparagus salad (gf, df)
Roasted Asparagus Salad – Delicious roasted asparagus, candied nuts, and a little bite from the cheese (or not). Makes a great addition to your spring table.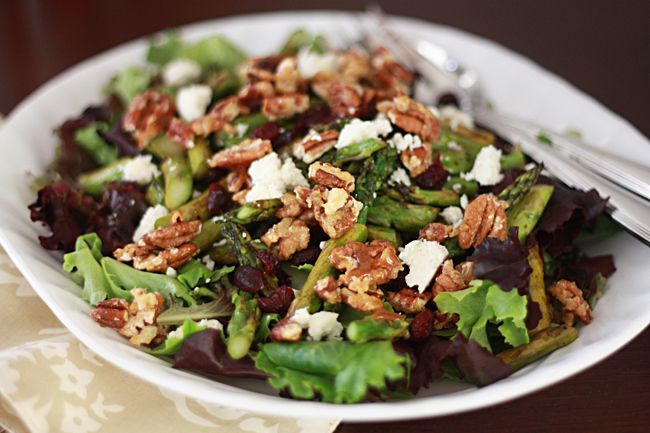 I always feel sad for people who say they don't like salad. To me, if you don't like salad, you aren't putting enough goodies in it.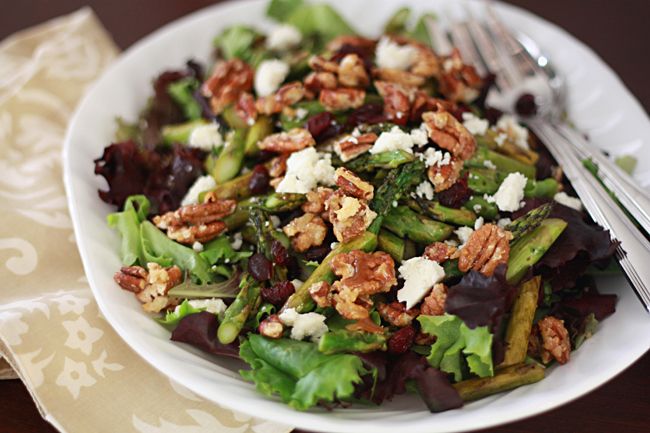 While it may not be the healthiest way to eat a salad, I LOVE eating a salad chock-full of goodies–nuts, fruit, veggies, cheese, sometimes bacon, and a great dressing. While I do like packing them full of add-ins, salads like this don't have to be unhealthy. We eat big, filled-out salads like this once a week or so, which breaks up our routine, gives us a good helping of fruits or vegetables (or both), and is a great excuse to pack a salad full of yummy goodness.
I saw a great idea for a salad with roasted asparagus in it. I love roasted asparagus, and I had a "doh!" moment where I thought "now, why didn't I think of that!?" This salad is delicious with spring mix, roasted asparagus pieces, dried cranberries, candied pecans, and a touch of cotija or feta cheese to top things off.
I tried this with a few different dressings to see what went best. We tried a balsamic vinaigrette and Brianna's brand creamy poppy seed dressing. Both were delicious. You don't need much in the way of dressing–just enough to coat it. (p.s. I like Brianna's brand because they don't use corn syrup)
This was very satisfying as a meatless main dish and would be delicious paired with some roasted potatoes or sweet potatoes or a nice, good-quality bread. Try it quickly, before asparagus season is over!
Print
Roasted Asparagus Salad
---
Description
This was delicious with the balsamic dressing described below. For easier preparation or a shortcut, feel free to substitute creamy poppy seed dressing (I recommend Brianna's brand)
---
For the salad
2

bunches asparagus, trimmed and cut into 1 1/2-2″ pieces

1

(5-6oz) container spring mix

1/2

c dried cranberries, more or less to taste

3/4

c candied pecans**
cotija or feta cheese, crumbled (about 1/4c-1/3c), optional*
olive oil
balsamic vinegar
salt and pepper
For dressing:
4 Tbsp

honey

4 Tbsp

balsamic vinegar

2 Tbsp

dijon mustard

2

–

3

Tbsp olive oil
salt and pepper
---
Instructions
Prepare asparagus by tossing it with a small drizzle of olive oil, a small drizzle of balsamic vinegar and a pinch of salt and pepper. Spread asparagus pieces out on a baking sheet and roast at 375 degrees 10-12 minutes, or until tender (but not mushy). Allow to cool.
Assemble salad dressing in a small bowl by whisking together honey, balsamic vinegar, dijon mustard, and olive oil. Add salt and pepper to taste.
For salad, layer spring mix, asparagus pieces, cranberries, pecans, and cheese. If serving immediately, drizzle dressing over all and toss to combine. If you plan on eating leftovers, drizzle dressing over individual servings before serving.
Notes
To trim asparagus, hold the ends of each spear in your finger tips and bend until the asparagus naturally snaps. This will get rid of the woody, tough part of the stem.
* For dairy free: skip the cheese. Feel free to serve with this vinaigrette. If you decide to go with a creamy poppy seed dressing instead, Brianna's brand is gluten and dairy free.
**To make your own candied pecans, melt 3 Tbsp sugar in a saute pan over medium heat until liquid. Add 3/4c pecans and stir to coat. Spread out over parchment paper or a silicone baking mat to cool.