cherry almond granola (df, v)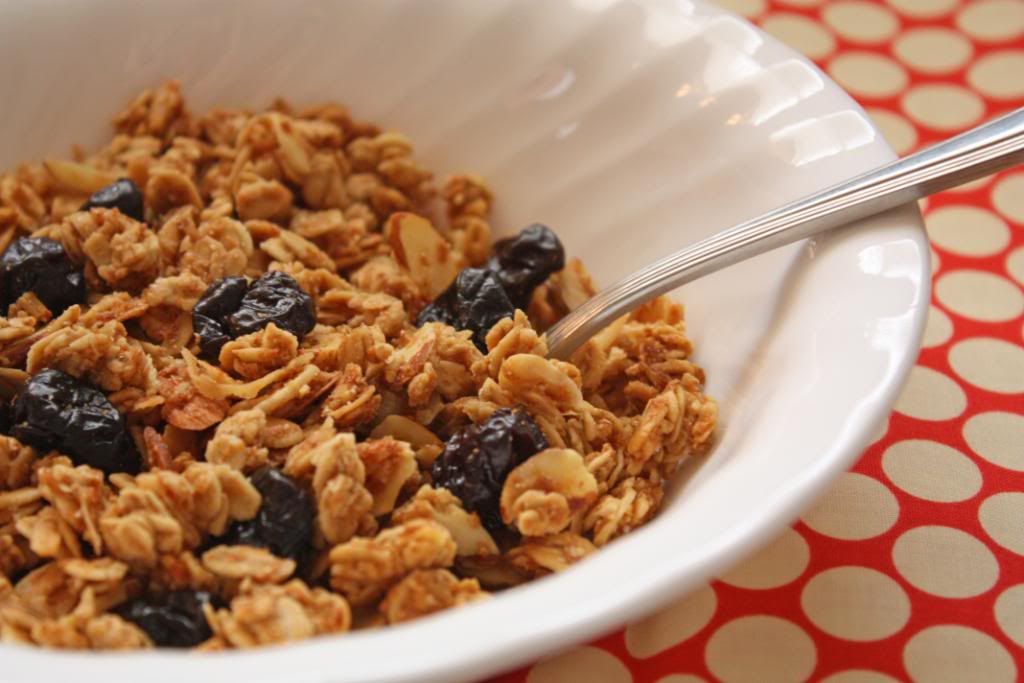 I have officially been making all my own cereal for the past three months. For some reason, I absolutely love making from scratch things you can buy pre-made. It's a fun challenge to see if I can make up or modify my own recipe, then see if it compares to or is better than store bought. I can honestly say that in nearly every single case, I enjoy the homemade version better than store bought.
It's an added bonus that I control what goes into my food. I like knowing there aren't any additives, preservatives, or fillers in what I'm eating for breakfast. Plus, granola is hearty enough that a 1/2c serving topped off with skim milk keeps me going for hours. On top of that, most of what I put into my granola can be bought in the bulk foods section, where you can often score the ingredients on the cheap, or just in the amounts you want if you don't want to invest in a full package of something.
I've been experimenting with my original granola recipe to come up with different alternatives. This one was a fun experiment. I used dried cherries, slivered almonds, and a little bit of almond extract here and it was really tasty.
If you're not really a dried fruit person, you can certainly leave out the cherries and have a yummy vanilla-almond granola. It's flexible and stores great.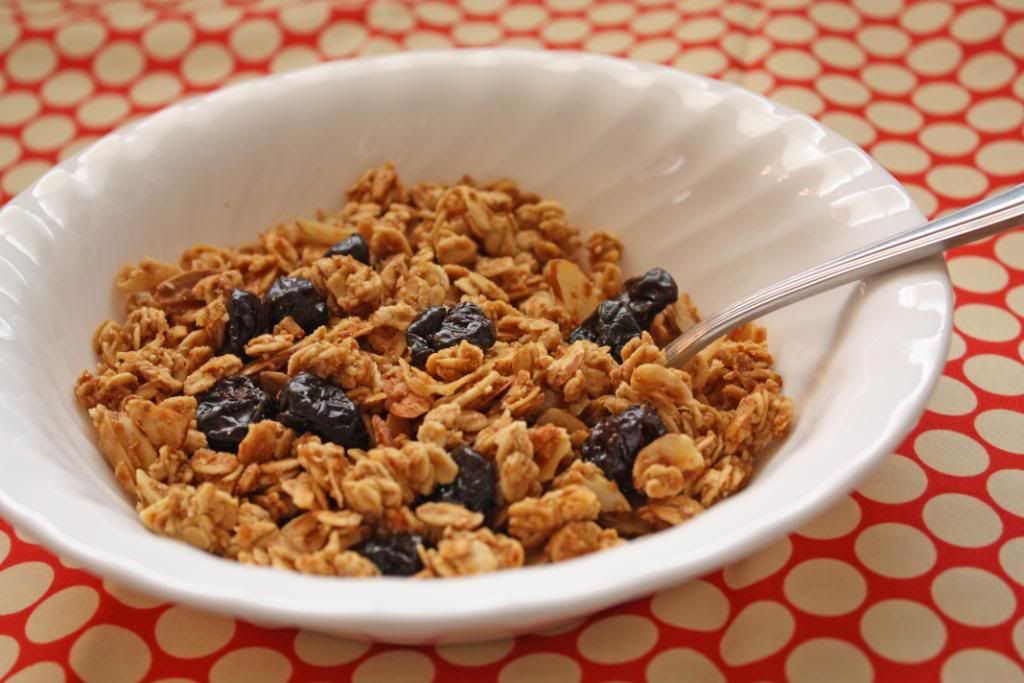 Print
5

c rolled oats (not quick)

1

c wheat bran

3/4

c whole wheat flour

1

c shredded coconut (sweetened or unsweetened)

1 1/2

c slivered almonds

1/4tsp

salt

1/4

c water

1/2

c canola oil

1

c +

2 Tbsp

honey

2 Tbsp

vanilla

1 Tbsp

almond extract (or more, to taste)

1

c dried tart cherries (or more, to taste)
---
Instructions
In a large bowl, combine oats, wheat bran, wheat flour, coconut, almonds, and salt. Stir to combine. In a medium bowl or glass measuring cup, combine water, canola oil, honey, vanilla, and almond extract.
Toss wet ingredients with dry ingredients, stirring well to combine and eliminate all dry patches. Spread on a cookie sheet.
Bake at 275 degrees for about 1 1/2 hours, stirring every 20 minutes or so. Add cherries for the last 10 minutes of the cook time. Cool completely and store in an airtight container.
Notes
For a vegan option, substitute maple syrup for the honey