Monsoon season is just about over, and we've had a few cloudy-ish days since I got back from my trip. It was sort of nice to be inside feeling cozy while the rain came down.
The smell of homemade bread on it's own is amazing, but something magical happens when you're tucked inside on a rainy day watching Sense and Sensibility for the 5,000th time while your house fills with the smell of bread.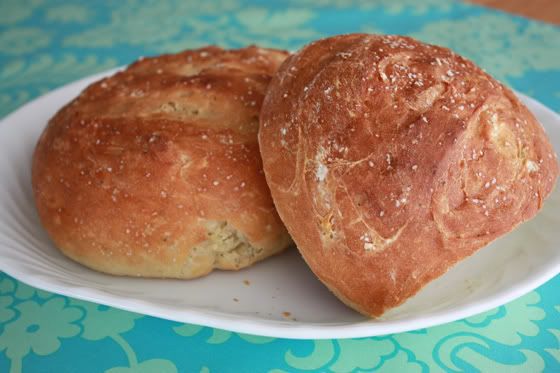 I got the idea for this bread when I had a hankering for the appetizer bread you get at restaurants to dip in seasoned olive oil. I love the salty crust and the herby taste that's not too overpowering.
For a first attempt, I'd say things went pretty well! I used one loaf at dinner to be served with pasta and salad and the other I cut up to use for panini. It was GREAT for both uses.
One key to getting the crust right on a boule (pronounced bool) is to make sure your oven is thoroughly preheated. Keep your water spray bottle close at hand so you can spritz water in throughout the bake time.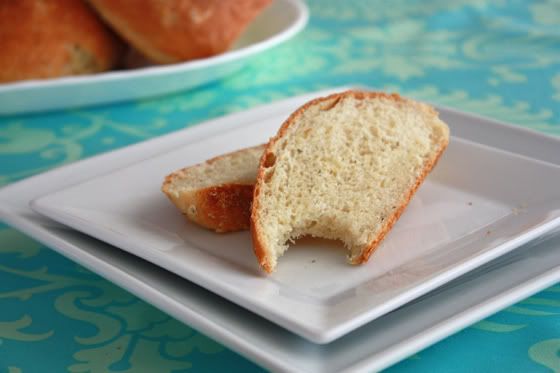 Print
3/4

c water

1/2

c milk

2 tsp

yeast

1 tsp

sugar

2 Tbsp

olive oil

1 tsp

dried rosemary (or

1 Tbsp

fresh), minced

1/2tsp

dried oregano (or

1/2 Tbsp

fresh)

1/4tsp

garlic powder

2 tsp

salt, plus more for sprinkling (I use kosher salt)

3

c flour
---
Instructions
In a small saucepan, combine water and milk and heat until warm to the touch but not hot (you should comfortably be able to touch the liquid). Remove from heat and add to a large bowl. Add yeast and sugar and stir to combine. Let stand about 5 minutes, or until bubbles begin to form.
Add olive oil, rosemary, oregano, garlic powder, and salt and stir to combine. Add flour 1/2c at a time, stirring well after each addition. Dough will likely be somewhat sticky.
Turn dough out onto a floured surface and knead only 1-2 minutes to coat with a bit more flour. Dough will be more wet than traditional bread dough (this is okay).
Place dough in a large bowl that has been coated with a thin layer of olive oil or nonstick spray and cover with a towel or plastic wrap. Allow dough to rise about 45 minutes, or until doubled in size.
Punch down dough and divide in half. Form each half into a ball (if you find your hands are sticking to the dough, you can use a bit of flour or olive oil to help things along).
Place two dough balls on a large cookie sheet that has been coated with nonstick spray or olive oil. (If you like, you can sprinkle the sheet with cornmeal). With a sharp knife, cut three shallow slits in the top of each ball. Sprinkle with salt.
Cover and allow to rise another 30 minutes.
Bake at 450 degrees for about 10-12 minutes, spritzing inside of oven every 3 minutes or so with a water spray bottle.
Allow to cool and slice to serve.