Mexican stuffed peppers with quinoa and black beans. A hearty main dish you're going to love. Try it with the homemade enchilada sauce!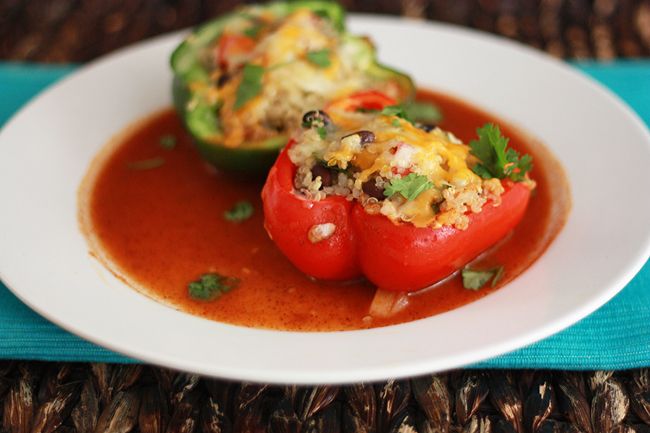 It's Meatless Monday time, and do I have an amazing recipe for you! I've been thinking about doing a Mexican-style stuffed pepper for a while, and finally came up with the perfect combination.
Believe me, dear reader, this is something you'll want to try.
If you're new to quinoa, this is a great way to try it. These were SO full of flavor and were absolutely delicious. I loved the quinoa stuffing mixture –quinoa, black beans, green chiles, cilantro, and more. I snuck several spoonfuls to taste before stuffing the peppers. Even Sophie liked it!
The cheese was more of a garnish than a necessity, so you could easily leave it off if you're eating dairy-free or vegan. I also highly recommend making your own enchilada sauce. It's completely delicious and just the right amount of spicy.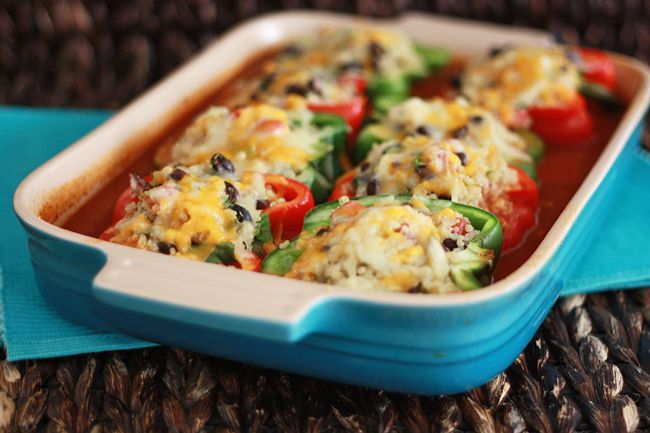 Mexican Stuffed Peppers with Quinoa & Black Beans
Ingredients
4 bell peppers (any color), sliced in half stem-to-tip, seeds removed
1c quinoa, uncooked
½ medium onion, diced
1 (15oz) can black beans, drained and rinsed
1 roma tomato, seeded and diced
1 (4oz) can diced green chiles (don't drain)
¼c cilantro, minced
¼tsp salt
¼tsp pepper
olive oil, if desired
½c Monterrey Jack, grated*
½c cheddar cheese, grated*
1 recipe red enchilada sauce (or 1 (28oz) can)*
Instructions
Add quinoa and onion to a large saucepan with 2 cups of water and a pinch of salt. Bring to a boil over medium-high heat. Boil 5 minutes, cover, turn off heat and let steam 15 minutes. Fluff with a fork.
In the meantime, microwave pepper halves 2-3 minutes to soften slightly. (Prepared this way, the peppers should come out crisp-tender. If you want them crisper, you can omit this step.)
Pour quinoa/onion mixture into a mixing bowl. Stir in black beans, tomato, green chiles and their juices, cilantro, ¼ tsp salt, and ¼ tsp pepper. If the mixture seems to dry, drizzle in a bit of olive oil (I didn't need any).
Pour enchilada sauce into a 9x13" baking dish. Divide filling among peppers. Nestle stuffed peppers into the enchilada sauce. Sprinkle with cheeses.
Cover the pan with foil and bake at 375 degrees 25-30 minutes. Remove foil and cook about 5 minutes longer. Serve peppers drizzled with enchilada sauce.
Notes
*Gluten & Dairy Free Notes: Be sure your enchilada sauce is gluten free. La Victoria brand makes a gluten free red sauce. If you're vegan or dairy free, just skip the cheese. It's more for garnish, and these are delicious with or without it.