It would seem we're all about dessert here this week. So sorry to break the trend, but I never was very trendy to begin with. Instead, you get olive cheese bread.
Olive cheese bread is a revelation.
Michael and I live in Hot-as-Blazes USA now, and when the temperatures stay in the triple digits (except for those occasional chilly mid-90s days), let's just say that it's a great thing to have something that doesn't require a lot of time in front of a hot oven. Don't get me wrong, I love my oven, but it's just natural to want something light and fresh for dinner in the summer. Now is not the time for pot roast and mashed potatoes. It's just not.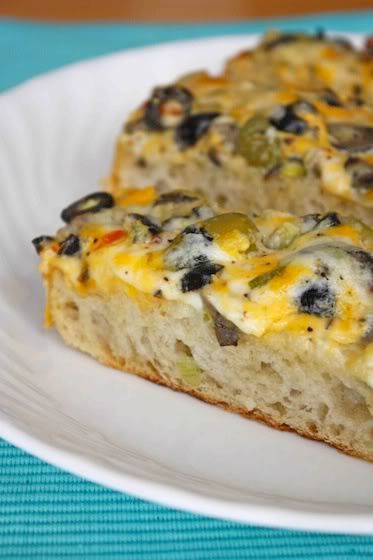 We've been doing a lot of fruits, vegetables, salads, and appetizer-ish things lately. The appetizer (such as bruschetta or in this case olive cheese bread) provides some substance and usually requires very little cook time, or at least very little attention while cooking. Paired with peak-of-season fruits and vegetables, it makes for a perfect light meal.
I've adapted a recipe from The Pioneer Woman Cookbook, and I really like it! If you don't want to go the appetizer route, this makes a great alternative to traditional garlic bread paired with pasta or you could serve it with grilled chicken or steak.
Also, if you're nervous about green olives, you could certainly use all black olives, or you can rinse the green olives under cold water for a few seconds to remove some of the briny taste.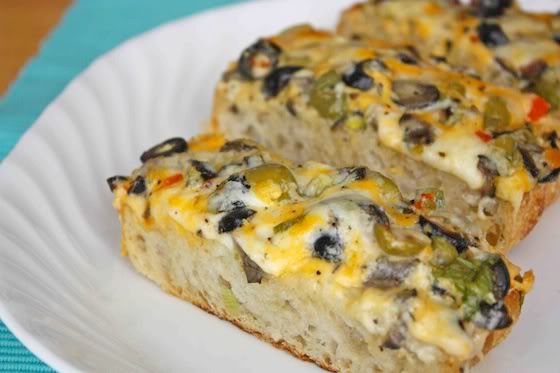 Print
1

loaf ciabatta or French bread, halved lengthwise

1

(6oz) can black olives, roughly chopped

1

(3-5oz) jar green olives with pimentos, roughly chopped (depending on how much you like green olives)

2

green onions, diced

2

cloves garlic, minced

1/4tsp

black pepper

6Tbsp

butter, softened

1/2

c mayonnaise (I used light)

1 1/2

c Monterrey Jack cheese, shredded

1 1/2

c cheddar cheese, shredded
---
Instructions
In a large bowl, combine olives, green onions, garlic, black pepper, butter, mayonnaise, and cheeses. Spread over bread.
*At this point you can bake or freeze the bread.
To freeze:
place on a pan in the freezer 20-30 minutes or until no longer gooey. Wrap in plastic wrap or airtight bag/container. When ready to use, bake frozen at 350 about 30 minutes or until cheese is melted. Slice into wedges and serve.
To bake:
Place on baking sheet and bake at 325 degrees for 30-35 minutes or until cheese is melted. Slice into wedges and serve.