Michael is enjoying a week of uninterrupted bachelorhood with Sophie and I in California enjoying girls (+ my dad) time together. Michael and I are rarely apart more than overnight, so this is kind of a big deal.
One way to make it easier (and more fun) for all of us was to plan a manly menu for while I'm gone. In the spirit of man food… I give you cheesy bean dip.

Michael and I live in the desert–the kind of place you can buy freshly made tortillas, more local salsas than you can count, home-grown chile peppers, and the best tortilla chips a person can find. (It sort of makes up for the 100+ degree heat that lasts half the year.) And if you have access to chips like these, you kind of have to come up with ways to eat them, am I right? It's like that famous old saying… "when life gives you tortilla chips, make bean dip." Or something.
This. was. so. good. It wasn't too spicy (you could toss in a jalapeno or two if you want more heat), was creamy and smooth, and, well… holy cheese, Batman! This is actually cheesier on top than I typically go for (but was just how Michael likes it), so know the cheese isn't a fixed amount. Add what you like, but be sure to serve it with your favorite tortilla chips.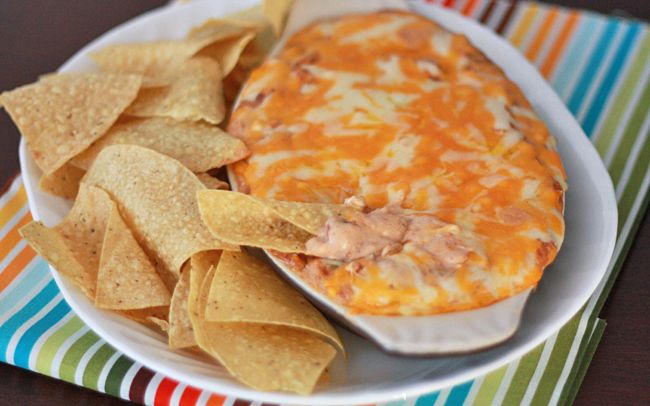 Print
1

(15oz) can plain refried beans (or about 2c homemade)

1

(4oz) can diced green chiles, undrained

1 Tbsp

taco seasoning

4oz

cream cheese (light is okay), softened

1/2

c sour cream (light is okay)

1/2

–

1

c grated cheese (I used cheddar and Monterrey Jack)
---
Instructions
In a large bowl, combine beans, green chiles, taco seasoning, cream cheese, and sour cream and beat until smooth. Transfer into a baking dish (8×8 or smaller) and top with cheese.
Bake at 375 degrees about 20 minutes, or until bubbly and melted. Serve warm with tortilla chips.