paprika roasted chicken (gf, df, Paleo, Whole30)
Raise your hand if roasting an entire chicken or turkey is intimidating to you. I don't know if you can see it through the screen, but I actually have both hands and a foot raised. At almost 9 months pregnant, I'm quite a spectacle.
For some reason, roasting a chicken seems so much harder than it is. Is it cooked through? Are there going to be cold spots inside? Where do I put the meat thermometer? Did I overcook it? Is it going to be dry? Bleh.
That's why "Roast a chicken" made our 101 Things to Do in 1001 Days list. I feel like it's a skill I want to develop. Plus, roasting whole chickens can be really economical. I wanted to really–really–give it a try. And guess what? It was a fantastic (delicious!) success!
I got a subscription to Martha Stewart Living for Christmas from Michael (magazines make GREAT Christmas gifts), and the January issue tackled several different ways to roast chicken. Michael saw a recipe for roasting a pair of paprika-rubbed chickens, and said that THAT was the one he wanted to try.
Well, two people don't really need a pair of chickens. Especially when organic chicken doesn't go on sale that often. So, I just kind of sat on the idea, waiting until the right time, whenever that may be. With organic roasting chickens on sale for $1.99 per pound last week, I thought it had better be the right time.
I ended up combining methods from several different recipes, adapted the paprika rub to our tastes, and then sat and waited anxiously while the chicken roasted. I was SURE I had blown it (my chicken ended up needing to cook almost 15 minutes longer than most recipes said it should have to), but the results were fantastic! The chicken was tender, juicy, not dried out at all, and made for great leftovers.
I can't wait for chickens to go on sale again!
A few notes on the recipe: I don't own a proper roasting pan, so most recipes I looked at recommended using a bed of vegetables to lift up the chicken the way a roasting pan with a rack inside would. Since you're not going to eat the roasted vegetables (they mostly just lend flavor), feel free to use a bit of this or that–whatever you have in your refrigerator. Have some limp celery on it's way out? Perfect!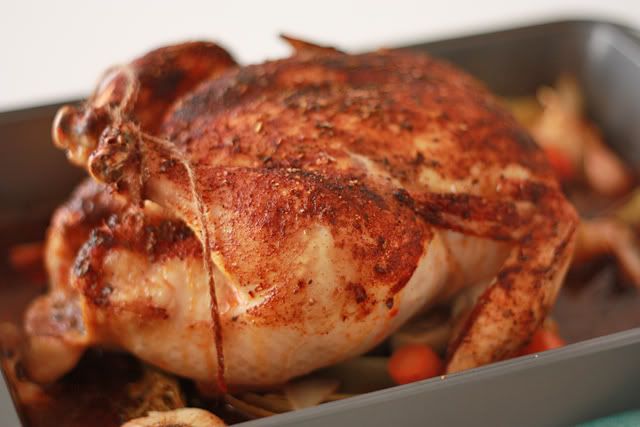 Print
1

(3-4lb) chicken, giblets removed (Mine was just over 4lbs)

3

–

4

Tbsp olive oil, divided

2

ribs celery, cut into large pieces

2

carrots, cut into large pieces

1

onion, cut into large pieces

1

whole bulb of garlic, sliced in half horizontally

1 Tbsp

paprika

1 tsp

oregano

1 tsp

salt

1/2 tsp

pepper

1/4

–

1/2

c water or chicken broth
---
Instructions
Be sure to start with a chicken that has been completely thawed. (This will prevent cold spots later.) Double-check that any giblets have been removed (they often come in a bag inside the cavity of the chicken). Discard them or save them for gravy, if desired.
Preheat the oven to 400 degrees. Toss celery, carrots, onion, and garlic with about 2 Tbsp olive oil. Place in the bottom of a roasting pan, Dutch oven, or metal 9×13″ pan (this is what I used). Turn garlic cut side down so that it doesn't burn.
Pat chicken dry with paper towels inside and out. Using a small piece of twine or string, tie the legs together. In a small bowl, combine paprika, oregano, salt, and pepper. Rub chicken with 1 Tbsp olive oil, making sure to cover the breasts and legs well. Sprinkle paprika mixture over the top, rubbing and distributing with fingers. Place chicken breast-side up on the bed of vegetables and tuck the wings under.
Roast chicken for 30 minutes. Remove from oven and add enough water or broth to the pan to cover the bottom of the pan. This will keep the vegetables from burning. Tent the chicken with foil and return to the oven.
Roast another 30-45 minutes,* or until a meat thermometer inserted into the thickest part of the thighs reads 165 degrees (don't hit the bone). Allow chicken to rest 10 minutes before carving.
*check the chicken at 30 minutes. If your chicken is closer to 4 pounds, it will likely need a little longer in the oven, but you want to start checking at 30 minutes.