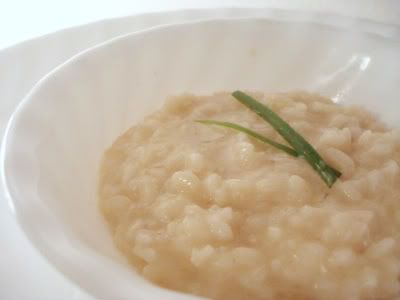 Believe it or not, up until last night, I had not experienced the creamy ecstasy that is parmesan risotto.
I know. Feel bad for me. Moving on.
It's actually been on my "cook this" list for a reeeeeaally long time. As in, over a year. Unfortunately, every time I was in the mood to try it, it was hot as blazes outside.
We just had our first "sticking" snow on Saturday, and, since I haven't been able to feel my extremities ever since, I thought now was the perfect time for something warm and creamy.
Holy. Mother. of. Comfort. Food.
If you haven't yet tried risotto, I think you should. It is a very simple recipe that comes together beautifully. While you do need to stir the dish, I promise you that it's easy. And it's a fantastic experience. The warm, creamy smells of parmesan and creamy broth make the stirring SO worth it.
If you can use homemade broth, I think you should. There are very few ingredients in risotto, and using a good broth will really ensure a quality risotto. If you have trouble finding Arborio rice (or it's too expensive), you can buy short-grain rice. I actually found some great short-grain rice in the Mexican section at my market for less than $2.
Parmesan Risotto
Printable Recipe
Ingredients:
1c Arborio or short-grain rice
1/2Tbsp butter
1/2Tbsp olive oil
1 shallot, finely diced or 1/2 a small onion finely diced
1 clove garlic, finely minced
3-4c chicken stock
3/4-1c grated parmesan
1/4c half-and-half (or cream, or whole milk, etc.)
Directions:
In a large saucepan, saute the shallot and garlic until tender in the olive oil and butter. Stir in the rice and stir to coat. Add one cup of broth to the mixture and stir consistently until mostly absorbed. Add in another cup and repeat. After the third cup is mostly absorbed, test the rice for doneness. Mine wasn't quite done, so I added another half cup of broth and that was perfect. Stir in parmesan cheese, half-and-half, and salt and pepper to taste.
Makes 4-5 main dish servings or about 6 side dish servings.