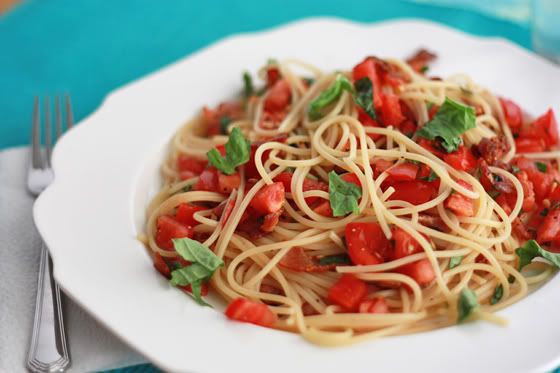 Last night I made something new and photographed it for the first time since Sophie's arrived. I've mentioned before, but Sophie's doctor has me on a very bland diet, and it's been hard enough to find anything TO eat, let alone something NEW to eat.
Off limits: dairy, chocolate, tomatoes/tomato products, citrus fruits, onions, garlic, peppers, broccoli, spicy things, and more.
Pretty much everything I have on my "to try" list includes at least one of the verboten foods, so it's been eggs, fruits (minus citrus), salad, bread, peanut butter, and cereal for the last three weeks. The good news is that I've discovered almond milk, which took me about 3 days to get used to. After the initial adjustment, I really like it. Someday when chocolate is in the cards again, I can't wait to try the chocolate flavor, but for now I stick with the plain and vanilla. Both are delicious.
Anyway, since Sophie's medication seems to have stabilized her stomach troubles, the doctor has given me the go-ahead to start adding foods back in one food at a time. Unfortunately, dairy is last on the list to try, but this week I'm giving tomatoes a go. Next week is onions and garlic. We'll go from there, but I have my fingers, toes, and eyes crossed that re-introducing foods goes well.
So what did I make? Pasta, of course.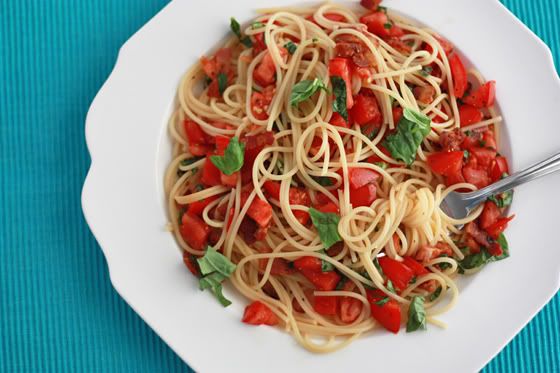 So, I more or less made this up, but basically, I threw together my favorite bruschetta ingredients (minus garlic), and added bacon, which (as we all know) makes everything better.
It was SO nice to eat such a delicious, flavorful dinner! I liked how fresh the pasta tasted with the uncooked tomatoes and lots of fresh basil. I'm SURE it would be incredible with garlic and a sprinkling of parmesan, but it was really good as it was. It was great paired with fresh fruit and warm bread.
The jury is out on whether Sophie's stomach likes tomatoes (she was fussy last night but had been having trouble sleeping, so it's hard to say whether she was fussy from being tired or fussy from dinner). Still, I'm optimistic that at least SOME of the foods on the off-limits list will be back in my diet soon. Cheers!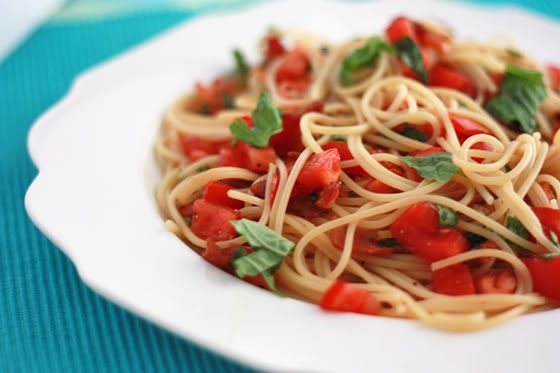 Print
Pasta Bruschetta
---
Description
I like to use Hormel Naturals or Applegate uncured bacon. Use your favorite!
---
8oz

spaghetti (use glu

ten

free, if necessary)

6

–

8

slices bacon, diced (be sure bacon is glu

ten

free, if needed)

2

medium tomatoes, diced

1/4

c loosely-packed fresh basil, minced

2

–

3

Tbsp balsamic vinegar

1 Tbsp

olive oil, plus more to taste
coarse salt and pepper
---
Instructions
Cook pasta according to package directions until al dente, about 8 minutes. Drain. While pasta is boiling, cook bacon in a large skillet until crisp. Drain bacon fat.
Add cooked/drained pasta to the skillet with the bacon. Stir in tomatoes, basil, vinegar, and olive oil. Sprinkle with salt and pepper to taste. Garnish with additional basil, if desired.
Add more vinegar and oil to taste.