peppered beef and snow peas (gf, df)
Michael and I are kindred spirits for more reasons than that we decided we want to be married forever.
We both love food.
As in, we're always scouting for new meal ideas, and when we're waiting in line somewhere or in the airport or in the car, we talk about food. One of my favorite things we do is to try to recreate something we like to eat out at home. We recently tried a Chinese place near us that served an AMAZING peppered beef dish we both loved. We came home on a mission to make it ourselves.
Beef with snow peas sounded like our favorite combination, but really, broccoli or bell peppers or whatever veggies float your boat would be great. We plan to try it with other veggies again soon.
Even if you're not a huge black pepper fan, don't be afraid of the pepper in this recipe. We use coarse-ground black pepper and it didn't overwhelm us at all. It makes for a fantastic, flavorful sauce.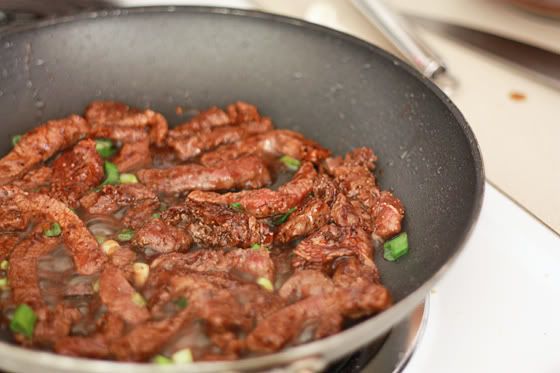 A few notes on the recipe: you really do need to use low-sodium soy sauce with this recipe. Regular soy sauce will make it far too salty and overwhelm the dish. Also, the cooking directions for the beef are important. Because the steak is cut into thin slices, they cook quickly and it's important not to let them over cook. This is coming from a well-done only girl, so fear not, the meat gets completely cooked and still stays tender if you cook it quickly.
Print
Peppered Beef and Snow Peas
---
1 1/4

lb sirloin steak, sliced thinly across the grain

1/2

c low-sodium soy sauce or gluten free tamari

4 Tbsp

brown sugar or pure maple syrup

2 Tbsp

cornstarch

1 Tbsp

fresh ginger, minced

2tsp

black pepper

1/2tsp

sesame oil
pinch red pepper flakes

8oz

snow peas, ends trimmed off

4

green onions, sliced

2

–

3

Tbsp high-heat oil, such as avocado oil or coconut oil (or canola)

5

–

6

Tbsp water
---
Instructions
In a medium bowl, combine soy sauce, brown sugar, cornstarch, ginger, black pepper, sesame oil, and red pepper flakes. Taste and add more sugar or pepper to taste. Add steak to the marinade and toss to coat.
In a large skillet, heat 2 Tbsp canola oil over high heat. Add snow peas and cook 1-2 minutes. Remove from skillet and set aside.
Allow oil to heat back up. Add half of beef strips and green onion to skillet (try to leave as much of the marinade in the bowl as possible). Cook on one side 1 minute without disturbing. Flip and cook an additional 30 seconds to 1 minute until no longer pink. Remove and set aside with snow peas.
Repeat the cooking process with the second half of the beef strips and green onions, adding additional oil if necessary. Remove from skillet and set aside with peas and beef.
Reduce heat to medium. Pour in remaining marinade and add 5 Tbsp water. Allow marinade to come to a bubble and simmer until thickened. Add additional water if needed to achieve your desired consistency. Return peas and beef to skillet and toss with sauce.
Serve over white or brown rice.