wedge salad with creamy parmesan dressing (gf)
Wedge Salad with Creamy Parmesan Dressing – One of my restaurant favorites remade at home!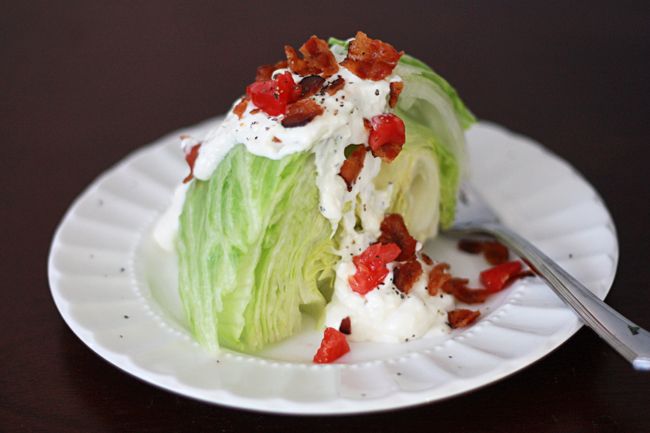 Confession: I am well aware that the healthier option when dining out is to order all dressings on the side, order vinaigrette when possible, and then maybe just dip the tip of your fork into the dressing before spearing your bite. I just don't do this very often.
Part of the going out to eat experience for me is getting to enjoy some full-fat, fully flavorful, fully divine salad dressing. Especially when served over a salad packed with all sorts of goodies (why hello cheese, bacon, and/or croutons. I'm talking about you).
Considering we only eat out 1-2 times per month max, and I usually get healthier salads when I do order them, I consider this a perfectly acceptable way for me to indulge on occasion/keep my chi in the right place/enjoy some dang-good salad dressing.
Which brings me to wedge salad.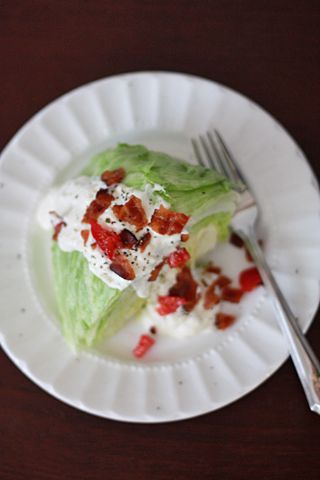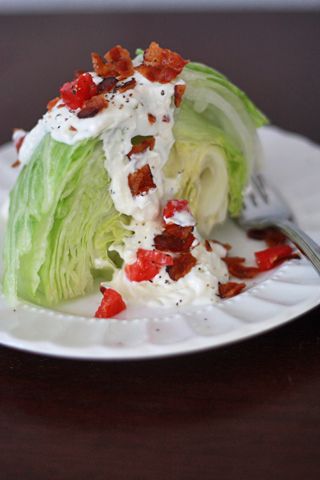 Wedge Salad, in my opinion, was invented by males who wanted a more acceptable way to eat salad. In this case, "acceptable" is a nice-sounding word denoting "lack of nutrients" and also "all the good stuff."
This isn't a raw kale salad sprinkled with chia seeds and nutritional yeast served with a wedge of lemon.
This is iceberg lettuce. Devoid of all nutrients but water. Served with a gloriously thick, cheese-laden dressing and topped with crisp bacon and other goodies.
And I'm not going to apologize for it.
Traditionally, I'm given to understand that wedge salad most often comes with a blue cheese dressing. The best (read: only) one I've ever had was served with the most divine creamy parmesan dressing, and so that's exactly how I wanted to make it.
Behold: deliciousness.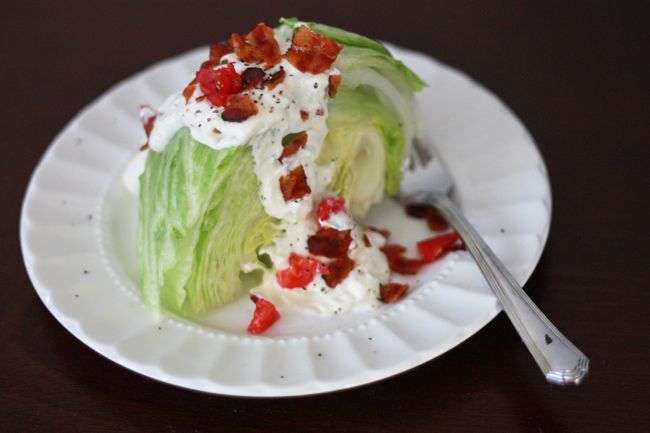 Print
Wedge Salad with Creamy Parmesan Dressing
---
For the dressing:
3/4

c mayonnaise (I prefer olive oil mayonnaise)

1/4

c buttermilk, plus more if desired

1/4

c sour cream or plain yogurt

1/3

–

1/2

c grated fresh parmesan cheese
salt and pepper, to taste
For the salad
1

head iceberg lettuce
crumbled, cooked bacon (optional)
diced tomatoes (optional)
minced chives (optional)
---
Instructions
For the dressing:
In a small bowl, whisk together mayonnaise, buttermilk, sour cream, and parmesan cheese until smooth. Add a healthy dose of both salt and pepper (I'd say at bare minimum, you'll want 1/4 tsp of each, though I used a heavier hand with the pepper). Taste and adjust seasoning as desired, adding more salt, pepper, or parmesan. If dressing seems too thick, you can thin it with additional buttermilk. If possible, refrigerate dressing for about 1 day to allow flavors to develop.
To serve:
To serve, cut lettuce into desired number of wedges. Top each wedge with parmesan dressing, bacon, tomatoes, or chives. If your dressing seems a bit too thick, you can thin it with additional buttermilk.
Notes
Dressing will keep in the refrigerator about 1 week. For best results, make dressing a few hours up to a day ahead of time to allow the flavors to develop.