vegetarian green chile pinto bean casserole (gf)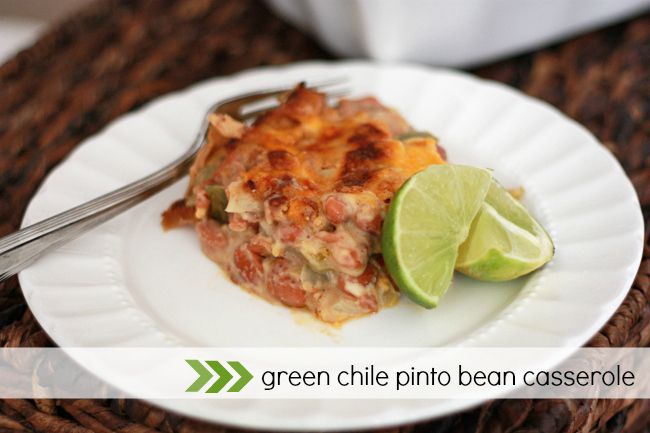 Based on what's been posted on the blog this year, there's a pretty good chance you believe we aren't eating around here. I promise: we are.
What are we eating? Well, lots of simple things. Mostly, our favorites on repeat. I stocked our freezer well before Milo arrived, and we've been eating lots of salads, sandwiches, and breakfast-for-dinner favorites, so there haven't been many recipes to share.
This is one we really enjoyed and is very worth sharing. I was drawn to the original recipe because it uses green chiles instead of noodles or tortillas to divide the layers in a twist on lasagna/enchiladas/tortilla casseroles. As an added bonus, there isn't any cream-of-something soup. Instead, there's a delicious and simple sauce made from green enchilada sauce and a bit of sour cream.
Are you intrigued yet?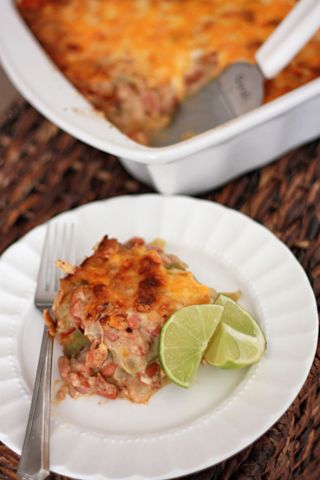 This is a pretty vegetable-heavy casserole that's filling and satisfying. It was simple, yet flavorful. All that to say, it wasn't beautiful (I challenge anyone to photograph a casserole beautifully), but it was tasty!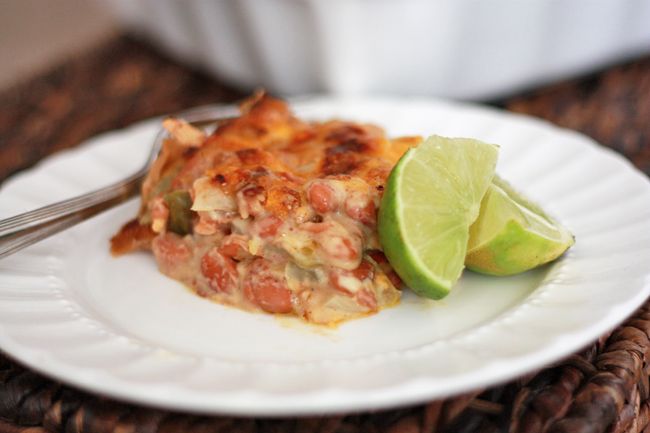 Print
Vegetarian Green Chile and Pinto Bean Casserole
---
Description
Feel free to use any color bell pepper you like, or to swap the pinto beans for black ones. Make it your own!
---
1 Tbsp

olive oil

1/2

green bell pepper, diced

1/2

red bell pepper, diced

1

medium onion, diced

1

clove garlic, minced

1/2 tsp

cumin

1/2 tsp

chili powder
salt and pepper, to taste

2

(15oz) cans pinto beans, drained and rinsed

1

c green enchilada sauce (I used canned, but you can use homemade)

1/2

c sour cream

1

(27oz) can whole green chiles, drained and patted dry

1 1/2

c grated cheese (I used a mixture of sharp cheddar and Monterrey Jack)
---
Instructions
Heat olive oil in a large saute pan over medium heat. Add bell peppers and onion, and cook over medium heat until soft and just starting to brown, about 4-5 minutes. Add garlic, cumin, chili powder, and a pinch of salt and pepper, and cook 1 minute longer.
Stir in pinto beans and enchilada sauce and cook over medium heat until enchilada sauce is mostly absorbed by the beans. Remove from heat and stir in sour cream. Taste and add additional salt or pepper as needed.
While the bean mixture is cooking, make a small slit in one side of the green chiles and open them flat. Remove any seeds and pat them dry with paper towels or a kitchen towel. (This will prevent the casserole from being too runny).
To assemble the casserole, layer half of the green chiles in an 8×8″ baking dish. Cover with half of the bean mixture. Repeat layers by topping the bean mixture with the second half of the green chiles, then covering with the second half of the bean mixture. Sprinkle cheese over the top.
Cover the baking dish with foil. Bake at 375 degrees for about 30 minutes. Remove foil and continue baking another 20 minutes or so, until the cheese is bubbling and starting to brown. (If you want it more browned, you can put it under the broiler for 1-2 minutes)