Maple Cinnamon Almonds (GF, DF, Vegan, Paleo)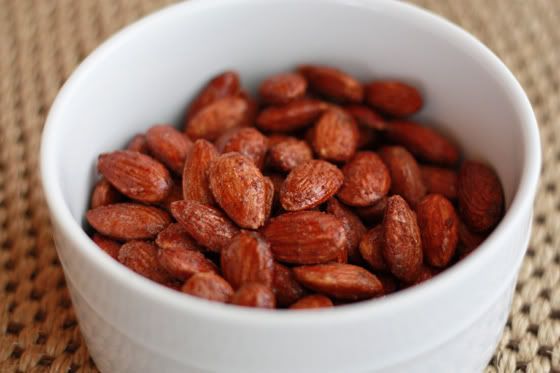 Hello all! We had a wonderful time (which I'll tell you all about later this week), and it's good to be back. This morning I had my booty kicked in my workout after a week off, I'm staring at a mountain of laundry, need to run to the grocery store and library, and have a boatload of pictures to edit. What better thing to do than sit down and write a post, right? Cough…riiiiiiiiiight.
Anyway, much of our vacation was in the car driving and sight-seeing and I was glad to have some great snack options prepared for the trip. When trying to make healthier choices, one of the things people feel stumped about is healthy snacks. It can be easy to feel bored if you limit yourself to carrot sticks and apple slices, but luckily, there are LOADS of healthy snack options out there.
I love to choose fruits or veggies because they often travel well. Still, if you're feeling bored, try mixing things up by adding a healthy protein, like string cheese, a little peanut butter, or hummus to liven things up. Proteins help you feel full and give you great energy that can be used to make it through that 2 o'clock slump or fuel a workout.
I've recently been trying to incorporate more nuts into my diet, since they're full of great nutrients. Nuts do pack a more calorie-dense punch than fruits and vegetables, but they're also full of healthy fats, contain no cholesterol, and contain potassium & vitamin E. As a bonus, each 1 ounce serving (about 20-25 almonds) delivers about 6 grams of protein per serving. Booyah!
Although I do like raw almonds, I really enjoy roasted or toasted almonds. This recipe adds just a little bit of sweetness and some great flavor. If you're not sure about the cinnamon, feel free to leave it out, but I thought it was a tasty addition. The recipe below makes about 5 servings of almonds, which works out to be about 180 calories per serving–perfect for a healthy snack.
And now…off to tackle Mt. Laundry.
Print
1

c whole almonds

1 1/2Tbsp

real maple syrup

1/4

–

1/2

tsp cinnamon
pinch salt
---
Instructions
In a medium bowl, combine almonds, syrup, 1/4tsp cinnamon, and salt. Toss well to combine. Taste and add more cinnamon if desired.
Spread out on a cookie sheet in a single layer. Bake at 300 degrees for 25-30 minutes, stirring every 10 minutes. Allow to cool completely.
Makes 1 cup almonds, or about 5 snack-sized servings