raspberry museli (gf, df, v)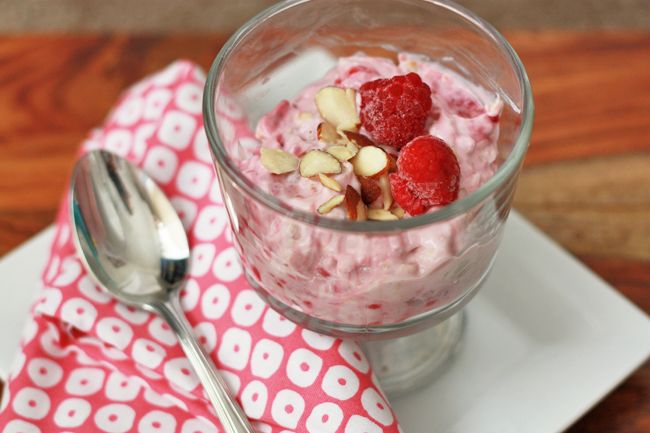 Happy Monday, dear reader. How was the weekend? Mine was filled with a flurry of errand-running, cooking, cleaning, and baking. It was glorious, and far too short. Lucky for me, though, this is a short week! Michael's brother Ben is coming to visit, so in just a few more days, we get to party like it's 1999. Or… 2011.
Anyway, I'm so excited for the weekend that this week, I'm feeling quick and easy things during the week. This breakfast is one of those things.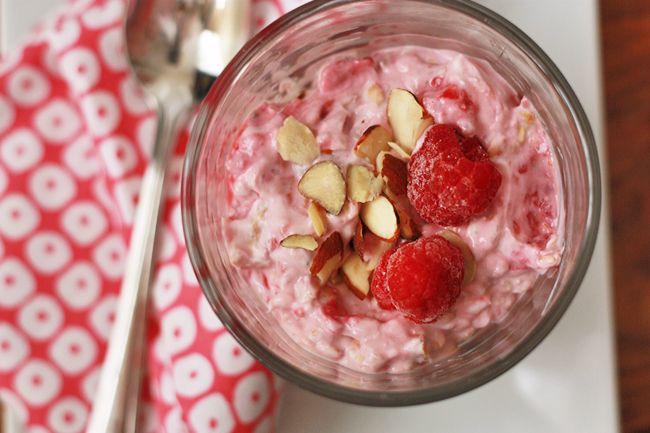 This is hardly a recipe. It's really straightforward. But I thought I'd share it in case anyone else finds themselves in a breakfast rut.
This is one of those things that with 2 minutes' worth of work in the evening makes for a quick, easy breakfast in the morning.
Seriously. You put a few things in a bowl, mix them up, pop them in the fridge and in the morning, stir in a few more things.
That's it.
I actually often make this for a snack during the day. Nursing a baby means that I'm eating almost all day long (I love eating almost all day long). Planning this the night before means that I can stir in a few almonds with one hand while holding Sophie with the other. Perfect! I end up getting calcium, fiber, protein, and vitamins in one cup.
This method works well with any berry you can think of and any yogurt you fancy. I like low-fat plain Greek yogurt, but if flavored yogurt is your thing, go for it! The oats soften overnight and give an almost pudding-like texture to the yogurt. I love it.
Like I said, you can change this up any way you like. You could stir in some chia seeds or wheat bran, stir in a bit of orange juice, add in raisins or dried cranberries, etc. You could use blueberries and swap the honey for a small drizzle of pure maple syrup (I've tried it, it's great!). Make it the way you like it!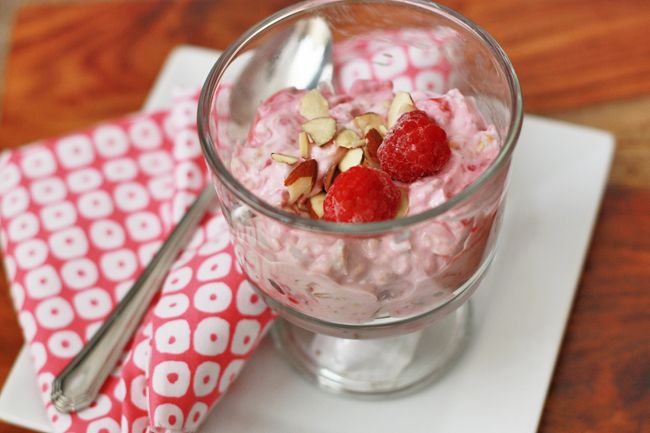 Print
Raspberry Museli
---
Ingredients:

1/2

c plain yogurt (I like Fage Greek yogurt)*

1/4

c uncooked rolled oats*

1/3

c berries (I use frozen raspberries)
honey or maple syrup, to taste

1

–

2

Tbsp sliced almonds
---
Instructions
In a small bowl, stir together yogurt, oats, and berries. Add honey to taste (I just use a small drizzle). Cover and refrigerate overnight or 6-8 hours. When ready to serve, stir again to break up the berries. Sprinkle almonds on top and enjoy!
Notes
*For a dairy-free version: use coconut yogurt, like So Delicious brand. For a gluten-free version, be sure to use certified gluten free oats.