drumsticks with peach barbecue sauce (gf, df)
Chicken Drumsticks with Peach Barbecue Sauce – You're going to lick up every last drop of this sweet and tangy sauce that you can get.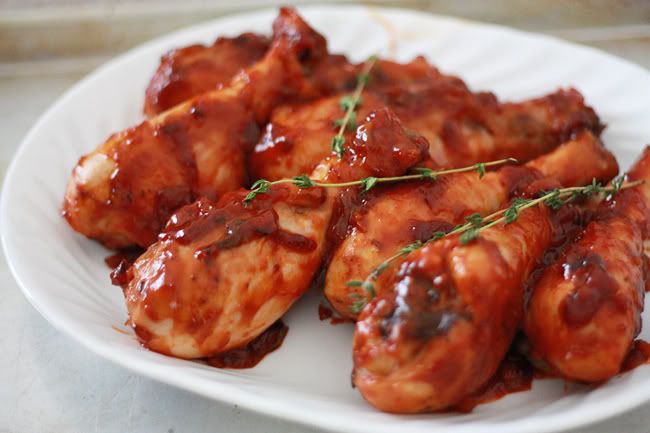 Do you have a favorite celebrity chef? I tend to love the idea of someone like Ina Garten. She's got this amazing, effortless style of entertaining that makes it seem so easy. I suppose I could achieve similar results if I lived in the Hamptons and had huge financial resources. So, although I really think she's the sort of person I'd love to hug and eat lobster macaroni and mixed berry pavlova with, her food isn't quite as "everyday accessible" to me.
Tyler Florence has surprised me recently. Last summer I read three or four of his cookbooks and found myself saying "wow, that looks great!" at almost every page. The other thing is that while his recipes might take an extra step or two, much of what he makes is real people food.
Take this meal, for example. Homemade peach barbecue sauce made in less than 30 minutes and a pretty short cook time on the chicken. I made the barbecue sauce a few days ahead of time which made my dinner prep REALLY simple. I put the chicken in a bag to brine a few hours before dinner, then tossed the drumsticks with my already-made barbecue sauce and tossed it in the oven.
I've modified his recipe a bit to suit our tastes–we don't fancy a too-strong cumin flavor and we wanted to use drumsticks instead of two whole chickens (there ARE only two of us). I was BLOWN AWAY by the peach barbecue sauce. It wasn't very peachy-tasting, just a subtle sweetness and an extra layer in the sauce. It was fantastic. I bet making it with homemade peach preserves would be divine. I might even try it with just straight up peach puree sometime. Also, this is another use for smoked paprika, if you're looking for one after trying the smoked paprika potatoes I blogged about last week.
As it stands, I've now had two–count 'em two–sauce victories in a week's time. First that amazing pizza sauce, now this lovely peach barbecue sauce. Michael is in heaven. I am too.
Notes on the recipe: The barbecue sauce recipe makes between 3.5-4 cups of sauce and can be made ahead of time. It will keep for about 1 week in the refrigerator and can also be frozen and used later. I found the flavor actually improved when I made it ahead of time. Also, I removed the skin from the drumsticks to make it a bit healthier (and I don't really care for the skin), but you could certainly leave it on if you prefer.
Print
Chicken Drumsticks with Peach BBQ Sauce
---
Description
Quick Tips: The barbecue sauce will keep for 1 week in the refrigerator and can be made ahead of time to speed things up on the day you plan to make this.
---
2 1/2

–

3

pounds chicken drumsticks, skin removed
brine
peach bbq sauce
For the brine:
4

c water

1 Tbsp

kosher salt (coarse salt)

2 Tbsp

brown sugar
a few sprigs fresh thyme
For the sauce:
2

slices bacon*

1

bunch fresh thyme (pull out a few sprigs for brine)
olive oil

1/2

onion, diced

2

cloves garlic, minced

2

c ketchup (I prefer no high-fructose corn syrup)

1

c peach preserves*

1/4

c brown sugar

1/4

c molasses

2 Tbsp

red wine or cider vinegar

1 Tbsp

dry mustard powder

1 1/2 tsp

smoked paprika

1/2 tsp

black pepper
pinch (up to 1/8 tsp) cumin
---
Instructions
For the brine, combine all ingredients in a gallon-sized zip top bag. Add drumsticks to the brine and refrigerate 30min-2hrs before cooking.
*For barbecue sauce, wrap the bunch of thyme with the strips of bacon. Brown bacon/thyme bunch in a small drizzle of olive oil in a large saucepan or Dutch oven for 4-5 minutes. Add onion and cook over medium heat until translucent, about 5 minutes. Add garlic and cook 1 minute more. Add remaining ingredients, and stir to combine. Cover and simmer about 20 minutes to allow the flavors to blend. You should have 3.5-4 cups of sauce.
When ready to cook chicken, remove drumsticks from brine (discard brine). Toss with 1-2c barbecue sauce in a large bowl. Spread drumsticks over a large cookie sheet covered with foil and sprayed with nonstick spray to prevent sticking.
Bake at 450 degrees 20-25 minutes, rotating halfway through.
Serve with extra sauce.
Notes
*For gluten free version: double-check that your bacon and jam are gluten free. Most are, but you'll want to check. I like Hormel Naturals Uncured bacon. It's gluten and dairy free and has no nitrates/nitrites.
Adapted from Tyler Florence, Tyler's Ultimate