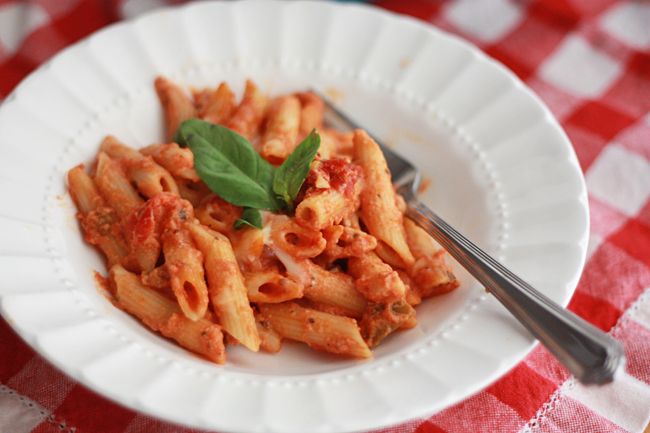 I had several disastrously bad high school dance dates. Comically bad. My parents were the sort that encouraged us to always accept dates unless we felt we would be unsafe. So, if that meant going with the boy who shouted from across the room in the middle of class one day "HEY EMILY, WANT TO GO TO THE PROM?" a few days after your little brother asks incredulously "who would ask YOU to the prom?" and your father has sternly promised him that if no one asks his sister to the prom it will be HIM that takes you, and you think you might die from the embarrassment of it all….that meant politely (albeit with red, embarrassed cheeks and the whole class' heads turning as though this painfully awkward conversation were a riveting tennis volley) accepting.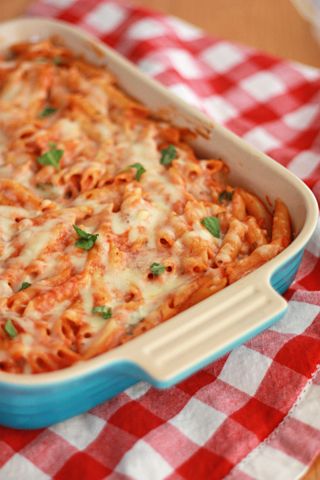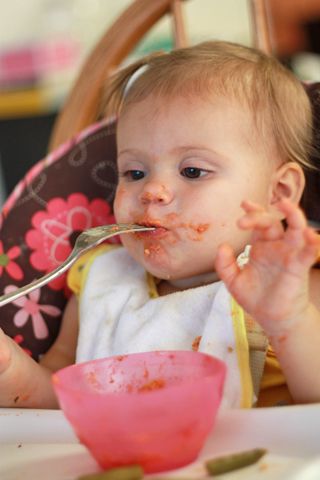 I won't go into detail (most of these boys were nice people, the dates were just terribly awkward), but if we're ever on a long car trip together, I could regail you with tales that would make you laugh till your stomach muscles cramped up, groan with discomfort, and roll your eyes from incredulity.
All that awkwardness aside, sometimes, the free (to me) dinner was the highlight of the evening. One such night involved what I've just mentally referred to as "pink pasta" ever since.
It's nothing new, or particularly fancy,  but when you're in high school in a brightly colored, fluffy, sparkly dress, almost anything can be fancy, am I right? In essence, pink pasta is pasta with both alfredo and marinara sauce on it. It's delicious. Like, really, really delicious.
I've been trying to expose Sophie to some new flavors lately, so we've been working on adding new flavors to foods she already likes. I figured fresh basil and spicier red sauce with peppers, onions, and mushrooms couldn't go astray when paired with pasta, alfredo sauce, and a bit of cheese. I was right. Sophie LOVED it. We ate it one night, ate leftovers, and froze the rest for lunches or dinners another time. You could just as easily divide the recipe in half or divide it between two containers (one to eat, one to freeze) if you please.
Just know that even on your most awkward days… pink pasta can be just fancy enough to help you get through. I'm glad we had this talk.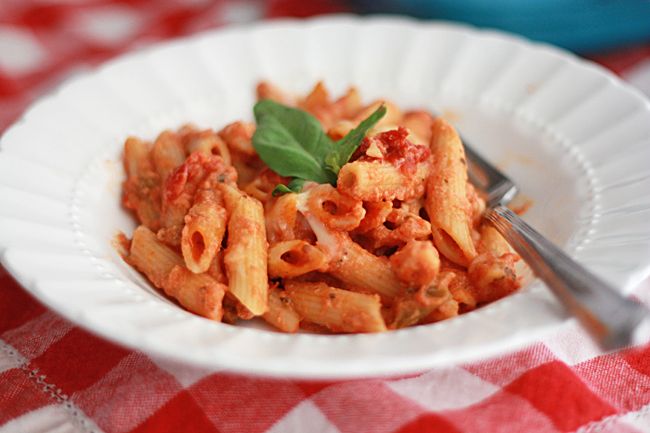 Notes on the recipe: I made my own alfredo sauce using this recipe for Guiltless Alfredo Sauce from Our Best Bites with good success (the only changes I made were to decrease the garlic to 1 clove and combined everything in the pan instead of blending it first). We also really like using Newman's Own Sockarooni sauce for the red sauce. It's got peppers and onions and is very flavorful. 
Print
Description
I recommend using the full 2 cups of marinara and alfredo sauce since the sauce thickens while baking. If you prefer less sauce, you can make the recipe with 1 1/2 cups of each sauce instead.
---
Scale
Ingredients
1

lb short pasta, such as penne, farfalle, or rigatoni

2

c your favorite marinara sauce

2

c your favorite alfredo sauce

1/2

c fresh basil, plus additional for garnish, if desired

1

–

1 1/2

c mozzarella cheese

1/2

c fresh parmesan cheese
---
Instructions
Cook pasta in salted water 1-2 minutes less than the package directs (it will finish cooking in the sauce and in the oven). Drain.
Meanwhile, make "pink" sauce by stirring together marinara and alfredo sauces in a medium saucepan over low heat until well blended. Stir in fresh basil.
When pasta has finished cooking, toss pasta with pink sauce. Pour into a 9×13 baking dish. Sprinkle with mozzarella and parmesan cheeses.
Bake at 350 degrees for 20-30 minutes, or until cheese is bubbly. Garnish with additional fresh basil if desired.
---