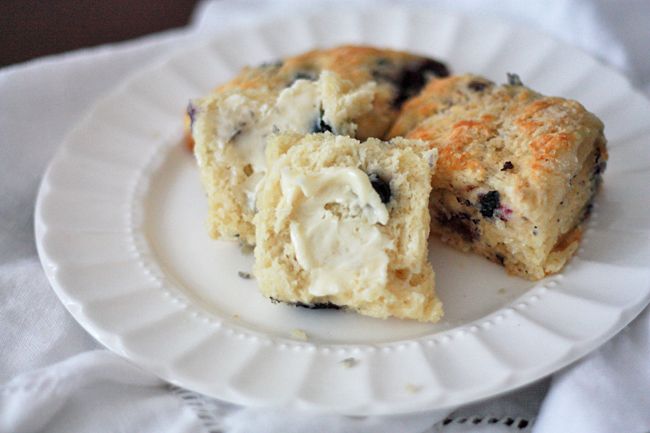 Like about every other female human I know, I absolutely LOVE Pinterest. I started using it the month before Sophie was born and it was so nice to finally transfer all my bookmarks (and there were hundreds) into a visual format. SO much better! One of the other benefits of Pinterest is being able to see what other people whose work or style I admire are pinning. It's the land of a million good ideas!
And that's where we got the idea for these beautiful biscuits.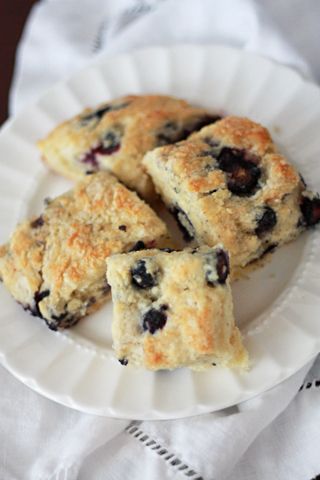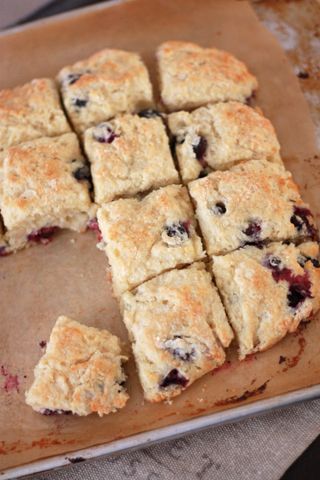 Although the inspiration biscuits were beautiful, I  just adapted my favorite recipe for buttermilk biscuits  by adding in a bunch of blueberries and topping them with a little coarse sugar. They were fabulous! I loved that they weren't too sweet, were light and tender, and were NOT dry. (That's always my problem with scones…too dry…)
I'll be honest, they're so good plain I ate mine sans toppings, but they're the perfect vehicle for something like blueberry compote, your favorite jam, lemon curd, or a flavored butter. They're perfect for breakfast, brunch, or breakfast for dinner (our favorite).
We made ours with fresh blueberries, but I think frozen would work just fine. The only side effect of using frozen blueberries (don't thaw them) is that you'll have slightly more bleeding from the berries, which isn't a problem in my book.
Happy eating!

Print
3

c flour

2 Tbsp

sugar

5 tsp

baking powder

1/2 tsp

salt

6 Tbsp

butter

1 1/4

c buttermilk

1

eggs

1 1/2

c blueberries (don't thaw if using frozen)
---
Instructions
Combine flour, sugar, baking powder, and salt in a large bowl. Add the butter and combine with a pastry blender or two forks until very crumbly. The pieces should be no larger than peas. (Alternately, you can combine the dry ingredients in a food processor and pulse until the pieces are no larger than peas.)
*If desired, you can prepare the dough up to this point and refrigerate up to 1 day until ready to continue.
Combine egg and buttermilk and pour into dry mixture. Add blueberries, and gently stir with a fork until just combined. Flour the countertop and turn dough onto the counter.
Pat out to a square, about 3/4″ in thickness. Being careful not to slice all the way through, slice large square into 16 smaller squares, keeping the dough in one large piece. Carefully transfer scored biscuits to a baking sheet lined with parchment paper (this is easier with a spatula or a bench scraper).
Bake at 450 degrees for about 15 minutes, or until tops are just golden.
Notes
Variation: add 1 tsp lemon or orange zest into the batter with the sugar, etc.
Inspired by Pink Pistachio, recipe my own.