Cincinnati Chili (gf, df)
Cincinnati Chili – This Ohio ballpark classic is surprisingly easy to make at home! Find out the basic recipe, and all the ways you can serve it below!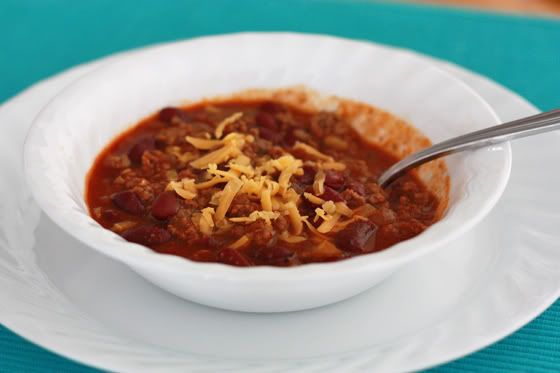 My family moved around a lot when I was growing up, a tradition I've continued into adulthood. For the last 2 1/2 years of high school, my family and I lived in a teeny-tiny, itty-bitty town in Ohio. Just over 800 people, one stoplight, and a single k-12 school. We LOVED living there.
My dad once got tickets to a Cincinnati Reds game through work, and he took my younger sister, brother, and me to the game. We had his company box all to ourselves, which felt a little like magic. My dad ordered Cincinnati Skyline chili dogs for us. They were incredible and unlike anything else I'd ever tried.
To be honest, I don't remember much about the baseball game, but I remember how much FUN we had up there together in that box eating chili dogs at a baseball game with my dad.
I can't give you the baseball game, but I CAN share a copycat Skyline chili recipe that brings back those memories in a flash. Cincinnati chili really is unlike any other chili you've ever tasted, and here's why…
WHAT MAKES CINCINNATI CHILI UNIQUE AND DELICIOUS:
1.  THE SPICES AND SEASONINGS. Cincinnati Chili isn't traditional chili with beans + Tex-Mex spices. It's actually more of a Mediterranean-style meat sauce. (Cincinnati had lots of Macedonian and Greek immigrants in the 1900s who influenced the food scene.) So, in Cincinnati chili you'll find a few unexpected ingredients, like cinnamon, allspice, cocoa or chocolate, cider vinegar, and Worcestershire sauce.
Sounds a little bit crazy, right? Well, don't write it off until you've had a chance to taste it. It doesn't taste chocolatey or cinnamon-y. It just has a little sweetness that makes this chili special.
2. THE TEXTURE. Another thing that makes Cincinnati Chili unique is that it's often a little more of a soupy texture than a super thick chili. You also don't put beans in the chili. (You actually put them *on* the chili–more on that in a minute!)
3. THE SIMPLICITY. Cincinnati chili or Skyline chili is quick-fix, no-frills diner food, so there really aren't a lot of fancy bells and whistles to the preparation. You'll basically pop everything into a big pot and let it go. (I *do* make one exception in my version, which you can see in the FAQ)
4. THE TOPPINGS! Part of what makes this chili SO incredibly different is how you serve it. You might be used to a bowl of spicy chili with a dollop of sour cream or a sprinkle of cheese, but with Cincinnati chili, it's a whole different ballgame, categorized by the "ways" that you serve it. And it often starts with SPAGHETTI!
THE DIFFERENT "WAYS" TO SERVE CINCINNATI CHILI
When it's not being spooned over a ballpark hot dog, Cincinnati chili is often served with spaghetti (another seemingly strange tradition, until you give it a try). The "way" you eat it is designated in one of these ways:
CINCINNATI TWO-WAY: chili over spaghetti
CINCINNATI THREE-WAY: chili over spaghetti with shredded cheese
CINCINNATI FOUR-WAY: chili over spaghetti with cheese and diced onion
CINCINNATI FIVE-WAY chili over spaghetti with cheese, diced onion, and kidney beans
I just LOVED it! If you're looking for a way to change up your chili night, give this one a go. It's delicious! It freezes well and can be eaten plain, over pasta, or to make your own chili dogs.
FAQ + TIPS AND TRICKS FOR THE BEST CINCINNATI CHILI:
A NOTE ON AUTHENTICITY. I've tried to be as authentic as possible (and true to my OH-recipe!), but one way I do stray is by cooking the ground beef first. I prefer being able to drain extra fat and prefer that larger pieces of beef in my chili. Traditionally, you add the raw beef to your seasoned broth and let it cook in the broth while mashing or separating it into very fine pieces, but I just don't love the texture that way. If you want to be authentic, you can skip the browning step, add the beef to the seasoned broth, and let it simmer to cook.
FEEL FREE TO ADD THE BEANS. Adding kidney beans as a condiment or topping is considered traditional, but feel free to add them straight into the pot of chili if that's easier for you. (I do this most of the time for simplicity's sake!)
CAN YOU FREEZE LEFTOVER CINCINNATI CHILI? You bet! I've found most chili recipes freeze well. I transfer cooled chili to freezer-safe bags or airtight containers (leave 1″ of room at the top to allow for expansion in the freezer!) and freeze them till solid. To thaw, I put them in the refrigerator.
EXTRAS FOR SERVING YOUR CINCINNATI CHILI. Besides the "ways" I listed above–with spaghetti, onions, cheese, and kidney beans–many folks like topping their Skyline chili with oyster crackers or a little hot sauce. (If I ever find gluten-free oyster crackers, I'll be a HAPPY girl!)
CRAVING MORE CHILI RECIPES? YOU'D PROBABLY LOVE..
Print
Cincinnati Chili (Gluten-Free)
---
Author:

Total Time:

About 1 hour

Diet:

Gluten Free
3/4

lb. ground beef (I used extra lean)

1/2

large onion, diced

2

cloves garlic, minced

1 Tbsp

chili powder

1 tsp

. cocoa powder

1 tsp

. brown sugar

1/2 tsp

. oregano

1/4 tsp

. cinnamon

1/4 tsp

. allspice

1/4 tsp

. cayenne pepper

1

(8oz) can tomato sauce

1 cup

chicken broth

1 cup

water

1 Tbsp

cider vinegar
TO SERVE:
Cooked spaghetti or hot dogs and buns
diced onion
shredded cheese

1

(15oz) can kidney beans, drained and rinsed
---
Instructions
In a large pot, cook ground beef and onions in a small drizzle of olive oil and cook over medium heat until beef is cooked through and onions are tender–about 5-7 minutes. Drain any fat.
Add garlic, and cook 1-2 minutes more, or until fragrant.
Add chili powder, cocoa powder, brown sugar, oregano, cinnamon, allspice, and cayenne. Stir to coat beef/onion mixture.
Add tomato sauce, broth, water, vinegar, and beans. Stir to combine (mixture will look rather watery).
Bring chili to a boil over medium-high heat. Reduce heat to medium-low, and simmer 30-40 minutes, or until thickened and deeper in color.
Serve over spaghetti or hot dogs with diced onion, cheese, and kidney beans as desired.
Notes
*Gluten and Dairy Free Notes: Just be sure your broth is gluten free. I like Pacific Naturals brand.
Cincinnati two-way: chili over spaghetti
Cincinnati three-way: chili over spaghetti with shredded cheese
Cincinnati four-way: chili over spaghetti with cheese and either kidney beans or diced onion
Cincinnati five-way: chili over spaghetti with cheese, kidney beans, AND diced onion
Prep Time:

10 minutes

Cook Time:

45-50 minutes

Category:

Dinner

Method:

Stovetop

Cuisine:

American
Keywords: cincinnati chili, skyline chili, skyline chili copycat,