Cincinnati Chili – This Ohio ballpark classic is surprisingly easy to make at home! Find out the basic recipe, and all the ways you can serve it below!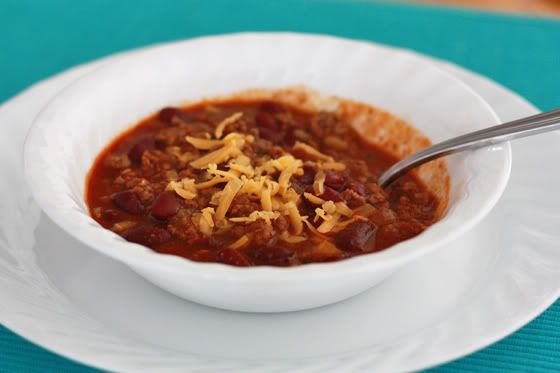 My family moved around a lot when I was growing up, a tradition I've continued into adulthood. I think I'm on my 13th state-to-state move (I just turned 24). Anyway, for the last 2 1/2 years of high school, my family and I lived in a teeny-tiny, itty-bitty town in Ohio. It was actually classified as a village it was so small. Just over 800 people, one stoplight, and a k-12 school. We LOVED living there.
My dad once got tickets to a Cincinnati Reds game through work and he took my younger sister, brother, and I to the game. We had a box all to ourselves. My dad ordered Cincinnati Skyline chili dogs for us. They were incredible. To be honest, I don't remember much about the baseball game, but I remember how much FUN we had up there together in a private box eating chili dogs at a major league baseball game with my dad.
What Makes Cincinnati Chili Unique (and Delicious!):
What makes Cincinnati chili different from other chili is the spice blend. Traditionally, Cincinnati chili doesn't have cumin (practically a staple in most chili recipes), isn't particularly spicy, and contains a few peculiar secret ingredients.
Are you ready for this? Cocoa powder and cinnamon.
Sounds a little bit crazy, right? Well, don't write it off until you've had a chance to taste it. It doesn't taste chocolatey or cinnamon-y, rather it just has a little sweetness that I find perfect.
Cincinnati Chili – Two-Way, Three-Way, Four-Way, Five-Way
When it's not being spooned over a ballpark hot dog, Cincinnati chili is often served with spaghetti (another seemingly strange tradition, until you give it a try). The way you eat it is designated in one of these dishes:
As a hot dog topper
Cincinnati Two-way: chili over spaghetti
Cincinnati Three-way: chili over spaghetti with shredded cheese
Cincinnati Four-way: chili over spaghetti with cheese and either kidney beans or diced onion
Cincinnati Five-way: chili over spaghetti with cheese, kidney beans, AND diced onion
We chose to picture the whole she-bang. I put my own twist on the chili, adding the beans INTO the chili mixture, rather than serving them as a garnish, but you can totally leave them out if you want to be more authentic.
I just LOVED it! If you're looking for a way to change up your chili night, give this one a go. It's delicious! It freezes well and can be eaten plain, over pasta, or to make your own chili dogs.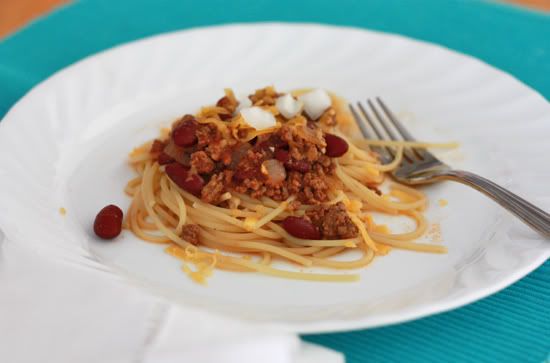 Craving More Chili? You Might Like…
Print
Cincinnati Chili
---
Scale
Ingredients
3/4

lb ground beef (I used extra lean)

1/2

large onion, diced

2

cloves garlic, minced

1 Tbsp

chili powder

1 tsp

cocoa powder

1 tsp

brown sugar

1/2 tsp

oregano

1/4 tsp

cinnamon

1/4 tsp

allspice

1/4 tsp

cayenne pepper

1

(8oz) can tomato sauce

1

c chicken broth*

1

c water

1 Tbsp

cider vinegar

1

(15oz) can kidney beans, drained and rinsed
salt and pepper to taste
To serve: extra diced onion, shredded cheese, and cooked spaghetti or hot dogs and buns
---
Instructions
In a large pot, cook ground beef and onions in a small drizzle of olive oil and cook over medium heat until beef is cooked through and onions are tender, about 5-7 minutes. Drain any fat.
Add garlic, and cook 1-2 minutes more, or until fragrant. Add chili powder, cocoa powder, brown sugar, oregano, cinnamon, allspice, and cayenne. Stir to coat beef/onion mixture. Add tomato sauce, broth, water, vinegar, and beans. Stir to combine (mixture will look rather watery).
Bring chili to a boil over medium-high heat. Reduce heat to medium-low, and simmer 30-40 minutes, or until thickened and deeper in color.
Serve over spaghetti or hot dogs with diced onion and cheese as desired.
---
Notes
*Gluten and Dairy Free Notes: Just be sure your broth is gluten free. I like Pacific Naturals brand.
Cincinnati two-way: chili over spaghetti
Cincinnati three-way: chili over spaghetti with shredded cheese
Cincinnati four-way: chili over spaghetti with cheese and either kidney beans or diced onion
Cincinnati five-way: chili over spaghetti with cheese, kidney beans, AND diced onion