Homemade Pizza Sauce – Your Friday pizza night just got a whole lot tastier.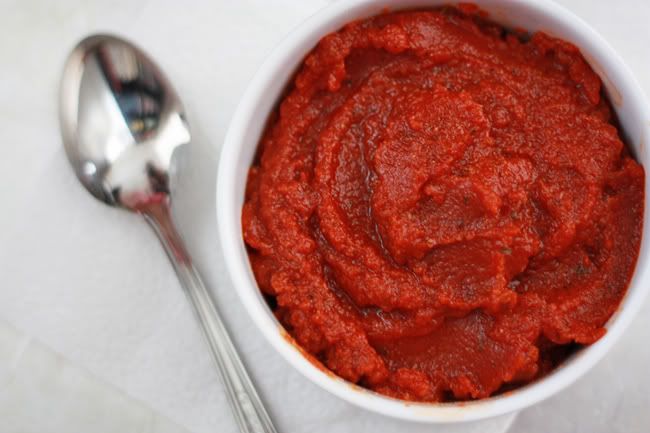 I love making things from scratch. I get a funny thrill from being able to create something you could buy at the store in my very own kitchen. I have had pretty good success with bread, brownies, and even cereal. But I haven't really mastered many sauces. I haven't found an absolute go-to barbecue sauce, for instance, and certainly hadn't mastered pasta sauce.
So it's been a tricky transition to make, since I'm avoiding both soy and corn products. You wouldn't BELIEVE (or, maybe you would) how many products contain some sort of corn or soy additive. It's almost ridiculous. Did you know corn syrup has even found its way into some baby formulas!? It's crazy.
I digress.
We're talking about sauces here. And when Michael and I had friends over for dinner the other night, we decided to do a build-your-own pizza and salad night. The trick was that we needed sauce. And wonder of wonder, miracle of miracles… we made an AMAZING pizza sauce.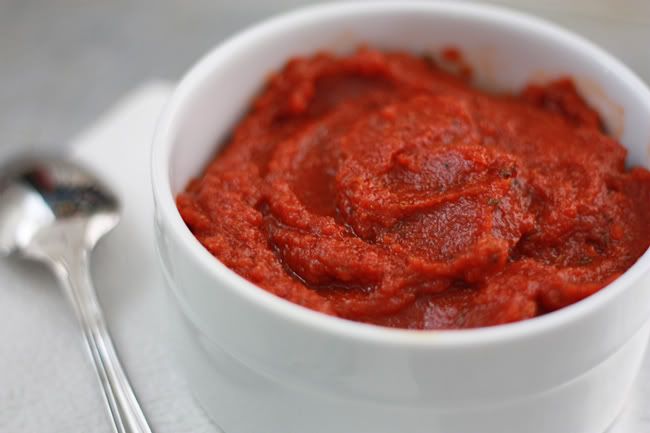 I was inspired having seen a beautiful photo on the blog Cooking for Seven (I LOVE Erica's blog). I needed quite a bit–I was feeding three hungry males after all–so I adapted the recipe and played with the amounts of ingredients to suit my tastes.
What I ended up with was a great balance of tanginess, sweetness, and spices. BONUS–it's really easy to keep all the ingredients on hand to make any time. I ended up with about 3 cups–close to what you can get out of a "standard" jar of sauce. I'll definitely be making this sauce again and again–even when I can eat anything I want. It was just that good.
p.s. Don't be afraid of the maple syrup. I was a little nervous, but I trusted Erica and was glad I did. The sauce does NOT taste maple-y by any means. Instead it was just the right amount of sweetness and I LOVED the flavor. I'd start with two tablespoons and then add more as necessary. Of course, if you're avoiding all sweeteners or completing a Whole30, you can skip the syrup.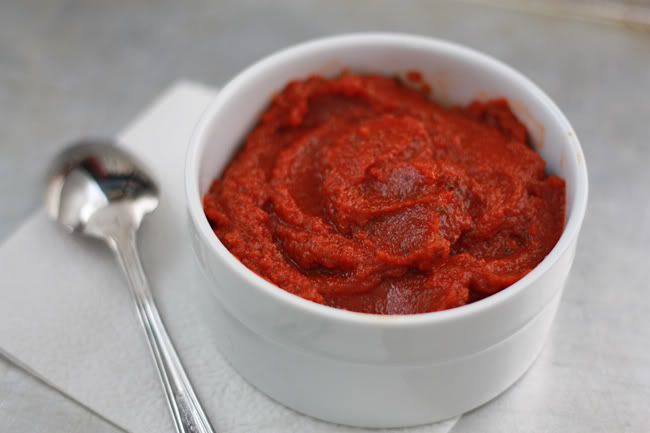 Print
2

(6oz) cans tomato paste

1 1/2

c water

4 Tbsp

olive oil

2

–

3

Tbsp pure maple syrup (depending on how acidic your sauce is)

1 Tbsp

onion powder

1 Tbsp

garlic powder

1 Tbsp

oregano

1 1/2 tsp

salt

1 tsp

black pepper
---
Instructions
Combine all ingredients in a large saucepan over medium heat and stir until well combined. Heat through and serve warm. Add additional water if you want a thinner sauce.
Makes about 3 cups sauce