evelyn's pumpkin chocolate chip muffins (df)
(Updated from the archives)
Call it nesting.
Suddenly, with second trimester bursts of energy, I've been working on getting our "planning house" in order. Instead of working on the nursery (waiting till I know what we're having), I've been working on things like our purchasing plan for emergency food storage, creating a sortable inventory of supplies, and doing research on specific aspects of parenting, like sleep schedules and how to raise unselfish children. I've spent many an afternoon at the desk surrounded by stacks of reference materials and notes, and clacking away at the keyboard working on Excel spreadsheets.
It's been very enlightening, and effective, but I've been really needing to take time to slow down and enjoy this beautiful season. Filling the house with the smell of autumn-y baked goods has been a heavenly to do this.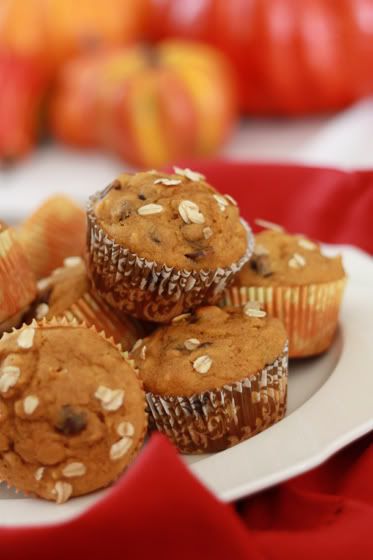 This recipe comes from our dear family friend Evelyn, of crescent roll fame. I love the hints of orange juice and the addition of the chocolate chips. My mom used to bake these Thanksgiving morning, but they're so good, we eat them year-round.
These muffins are great when you need to make something ahead of time. I often make the batter the night before I plan to bake them. With that step out of the way, all it really takes is the bake time in the morning. The muffins also freeze well, so I put extras in the freezer in a zip-top bag for days I want something special.
(Also, just a quick note: if you use muffin/cupcake liners, they will stick a bit to the muffins until they have cooled down. Once the muffins are cool, they slip right off!
Enjoy!!!
Print
Evelyn's Pumpkin Chocolate Chip Muffins
---
1

egg

1

c pumpkin puree (not pumpkin pie filling)

1/4

c canola or vegetable oil

1/2

c orange juice

1/2

c sugar

1 tsp

cinnamon

1/2tsp

ginger

1/4tsp

cloves

1/2tsp

salt

2tsp

baking powder

1/4tsp

baking soda

1 1/2

c flour

1/2

c old-fashioned (not quick-cooking) oats, plus more for garnish

1/2

c (or more) chocolate chips*
---
Instructions
Combine egg, pumpkin, orange juice, oil and sugar. Sift in cinnamon, ginger, cloves, salt, baking powder, baking soda, and flour. Stir till just moistened. Fold in oats and chocolate chips, being careful not to overmix (which leads to dry muffins…ew, people. Ew.)
Scoop into muffin cups, filling about 3/4 full. If desired, sprinkle with extra oats.
Bake at 375 degrees for 16-20 minutes or till a toothpick inserted comes out clean.
Makes 1 dozen muffins.
Notes
*For dairy-free option, use dairy free chocolate chips. We like Trader Joe's Semi-Sweet or Enjoy Life mini chocolate chips.