green chile pork burritos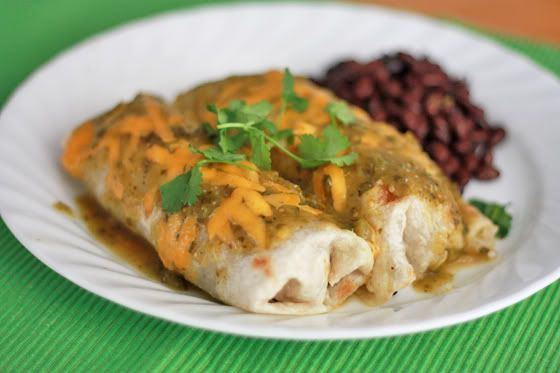 Fruits and vegetables and dairy make me very happy. I could live a VERY satisfactory existence basing my diet on those three things (and, let's be honest, pasta, bread, and cereals, so four things). However, there's this boy I'm in love with, and have married, and love, and live with, and love, and cook dinner for. And also love. Did I mention love? Because, really. I love him.
This boy is more than happy to eat whatever I put on the table, but does make a few requests every now and again for something manly. And one of the most recent requests was green chile pork burritos.
Of the very manly variety.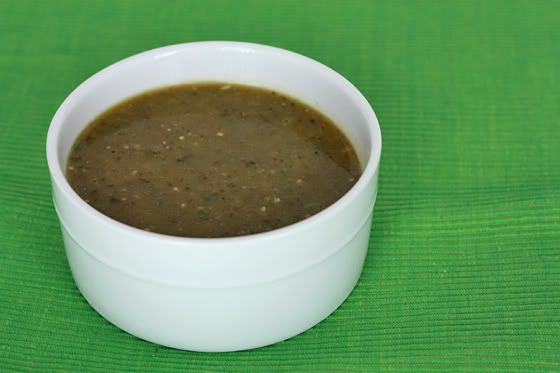 So, what exactly constitutes a manly burrito? Well, he wanted slow-cooked, meltingly tender pork, green chile sauce, freshly cooked tortillas (a perk of living in the desert!), rice, beans, and cheese.
I took on the challenge, and was told between bites that I delivered. Wahoo!
I adapted a recipe from one of my FAVORITE from-scratch blogging friends (whose name is also Emily). Her recipes have never let me down.
I really loved this sauce, especially. It was SO good and really complimented the pork. Although there are quite a few ingredients, I was able to find everything I needed easily. As an added bonus, the recipe makes quite a lot, so we got to freeze some leftovers for when babygirl arrives. It really does make a lot of the salsa. I just freeze it in baggies or containers and can pull it out for tortilla chips, topping enchiladas, or dipping taquitos in later. Delish!
Notes on the recipe: Please protect yourself while working with all the different chiles and peppers. I choose to wear gloves to protect my hands, that way I don't have to worry about accidentally setting my eyes, mouth, or skin ablaze from having chile oil on my hands. Just save yourself the trouble and cover your hands.
Also, I really do like the texture I get from browning the pork before slow-cooking it. It's not an essential step, but I like getting the crisp edges. It feels more…authentic, maybe? I just like the texture contrast. Enough talking. Enjoy!
Print
Green Chile Pork Burritos
---
2 1/2

–

3

lb pork loin or sirloin roast, cut into

4

equal-sized pieces

6 Tbsp

flour

1 Tbsp

salt

1 Tbsp

pepper

4

–

5

Tbsp canola oil

2

onions, diced

8

cloves garlic, minced

2 tsp

cumin

1 Tbsp

oregano

1/8 tsp

cinnamon

2

lb tomatillos, husks removed and cut into quarters

3

c chicken broth

3

anaheim chiles, seeded and roughly diced

3

poblano chiles, seeded and roughly diced

1

yellow or orange bell pepper, diced

2

–

3

jalapenos, seeded and diced

1/2

bunch cilantro
juice of

2

limes
To serve: tortillas, cheese, beans, rice, etc. (optional)
---
Instructions
On a shallow plate, combine flour, salt, and pepper. Dredge each piece of the pork with the flour mixture and coat well. Discard any excess flour mixture.
Heat 4 Tbsp canola oil over medium-high in a large Dutch oven or braising pan. Add the pork and brown well on all sides. Remove pork and set aside.
Drain all but about 1 Tbsp of the oil from the pot and reduce heat to medium. Add onions to the pot, and cook until onion is translucent, adding a bit more oil if necessary. Add garlic, cumin, oregano, and cinnamon and cook 1 minute longer. Add about 1/4c of the broth and stir to scrape up any browned bits that have stuck to the bottom of the pot.
Return browned pork to pot. Add tomatillos and the remaining 2 3/4c chicken broth. Cover the pot and bring the mixture up to a boil. Reduce heat to medium-low and simmer 2 hours.
After 2 hours, add anaheim chiles, poblano chiles, bell pepper, and one jalapeno to the pot and continue simmering for 1 hour more. Taste sauce and add additional salt and pepper as desired.
Remove pork from the sauce and shred, discarding any fatty bits. Working in batches, puree the sauce and transfer to a large bowl, adding cilantro, lime juice and the remaining 1-2 jalapenos to one of the batches (depending on how spicy you'd like it). After all the batches have been pureed, stir well to combine. (I ended up with almost 3 quarts of salsa)
Toss some (3/4-1 1/2c) of the salsa with the shredded pork.
To make burritos, fill tortillas with pork, beans, rice, and cheese as desired, then top burritos with salsa.