Mango Guacamole Chicken Wraps – A slightly sweet twist on your favorite guacamole. A mouthwatering savory-sweet combination!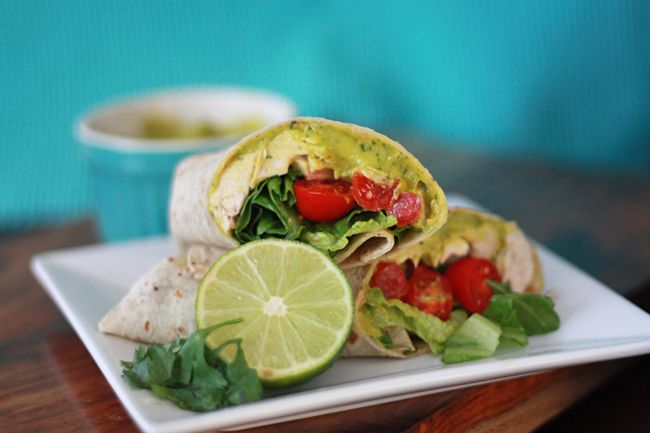 Marriage changes people.
Exhibit A: When we got married, I had never cooked steak in my life. That's not true anymore.
Exhibit B: Michael told me when we got married that he thought mangoes tasted like pine trees. While he wouldn't love to devour a bowl of mangoes anytime soon, he likes these quesadillas, this salsa, and LOOOOOVES these wraps.
Although my heart and stomach are really excited for fall and all the delicious foods that come with it, summer is still alive and well here in the desert, and these were the perfect cool dinner this weekend after a day of swimming and being outside in 100+ degree heat. The leftovers were divine for lunch.
This is a very simple guacamole. You could certainly add some heat with a jalapeno (we didn't since we hoped Sophie would try some), or a little onion if you fancy. We thought it was perfect as it was–sweet from the mango, creamy and fresh from the avocado and cilantro, and a touch of brightness from the lime.
We used a crock pot rotisserie chicken for this, and filled the wraps with mango guacamole, chicken, tomatoes, and romaine lettuce. You can add whatever veggies sound great to you (bell peppers would be nice) or make them meatless by substituting black beans for the chicken.
Now if I can just get Michael to love artichoke hearts, stinky cheese, and squash…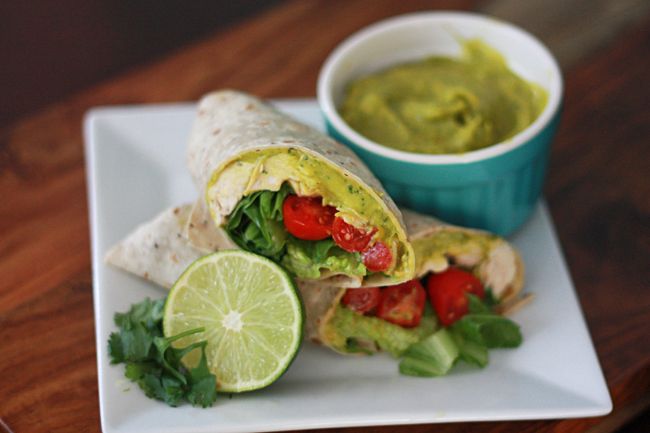 Mango Guacamole Chicken Wraps
Leftover guacamole will keep, covered, in the refrigerator up to 2 days.
Ingredients
For the mango guacamole:
1 avocado, peeled and pit removed
¾c mango (1/2 large mango or 1 ataulfo/yellow mango)
juice of 1 lime
3-4 Tbsp fresh cilantro
salt to taste
For the wraps:
4 tortillas or sandwich wraps*
shredded or cubed cooked chicken
lettuce, tomato, and any other vegetables you please
Instructions
For the guacamole:
Puree all ingredients in a blender or food processor until smooth and creamy.
For the wraps:
Spread ¼ of the guacamole on each wrap. Add chicken, tomatoes, and lettuce, then roll tightly, tucking in both ends.
Notes
*For a gluten free version: sub GF wraps or brown rice tortillas. Or, feel free to make a rice bowl with rice, black beans, chicken, guacamole, lettuce, tomato, etc.
Inspired by and adapted from
Closet Cooking