my favorite chicken salad (gf, df)
My Favorite Chicken Salad – A little sweetness from the grapes, a little crunch from the nuts, and the perfect blend of flavors. Serve it on lettuce leaves, apple slices, bread, croissants, or crackers. Yum!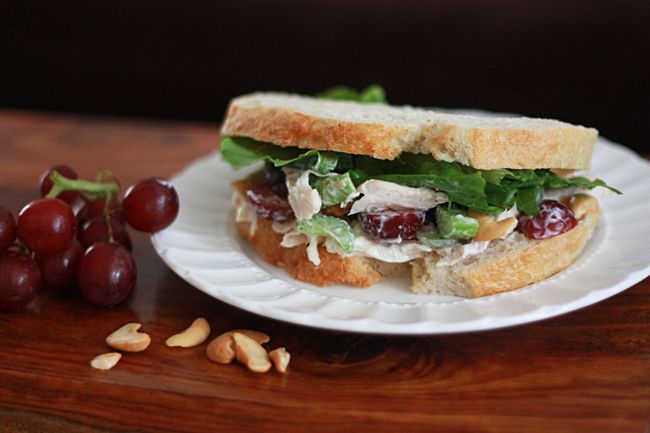 Oh, chicken salad. Official food of ladies' get togethers, baby and bridal showers, luncheons, and hot summer days…I love you. Seriously, I loooove chicken salad. Michael does too. And every time we eat it, we wonder why we only have it 1-2 times a year.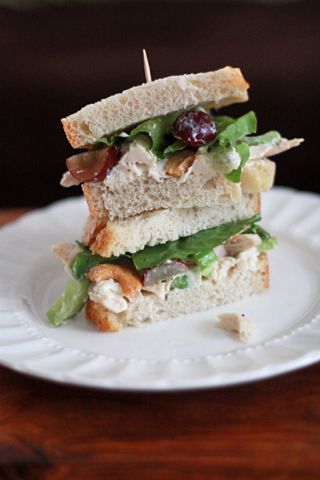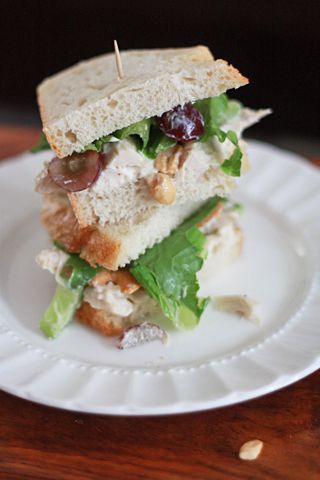 There are more variations of chicken salad than I can count, and, truthfully, I like most of them. This, however, is my very favorite, and pretty much the only one I make. It's my favorite combination of crunchy, salty, sweet, and even a little creamy (not too much mayo please!). To me, it's one of those occasions where the end result seems far better than the ingredients. Accordingly, use the best you can. Find some great-looking crisp grapes, use fresh celery, and use high-quality mayonnaise (I prefer olive oil mayonnaise).
As I said, this is my favorite version, though it's incredibly customizable. Whether you make your own rotisserie-style chicken at home or buy one pre-made at the store, you basically just combine the chicken with a few different fruits, vegetables, and nuts in a bowl, put it between two slices of bread (or, better, a croissant) and call it a day. Use dried cranberries or apples (or both!) instead of the grapes, switch to pecans or toasted almonds instead of cashews, or stir in a pinch of curry powder or fresh herbs. Make it your own!
The amounts listed below are totally approximate measurements. You'll have to decide what proportions look good to you, so please know there aren't any hard and fast rules.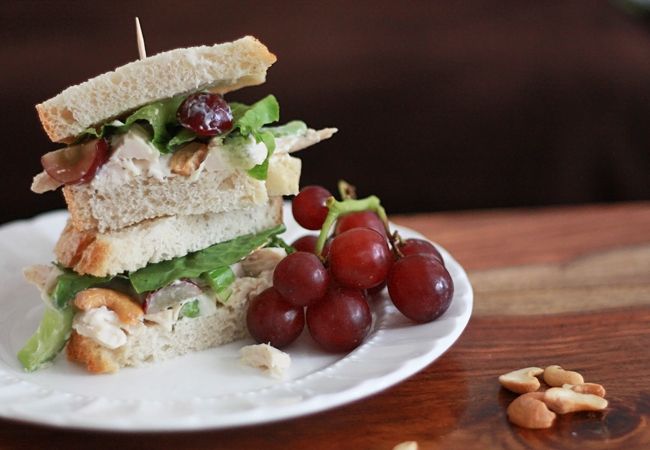 Print
My Favorite Chicken Salad
---
Description
These amounts can be easily doubled (or tripled) if you're making the salad for a party, shower, or group get-together.
---
For each cup of chicken:
1

c cooked, shredded chicken

1

–

2

stalks celery, sliced

1/3

–

1/2

c grapes, sliced in half

2

–

4

Tbsp mayonnaise

1/2 tsp

fresh lemon juice (optional–I only use it if I have it on hand)
salt and pepper, to taste

2

–

3

Tbsp cashews
---
Instructions
In a medium bowl, toss chicken with celery, grapes, 2 Tbsp mayonnaise, lemon juice, and a pinch of salt and pepper. Add more mayonnaise if desired. Taste and add more salt and pepper, if desired. Right before serving, sprinkle with cashews.
Tip: If not serving all at once, top individual sandwich servings with cashews right before you eat them. If you stir the cashews into the mixture, they will soften.
Notes
Variations:
1. Try substituting apples and/or craisins for the grapes
2. Use pecans or toasted almonds instead of cashews
3. Stir in a pinch of curry powder or fresh herbs into the chicken mixture
4. Try serving the salad on rosemary bread, sourdough, or a croissant. Gluten free bread is also an option.
5. For a bread-less version, serve on a bed of spring greens or a leaf of crisp lettuce
**Gluten free/Dairy free notes: not all brands of mayo are gluten/dairy free, but many are. I like Kraft brand olive oil mayo. Best Foods, Earth Balance, and Hellman's all make gluten and dairy free versions as well.