peperoncini beef sandwiches (gf, df)
Peperoncini Beef Sandwiches – The perfect summer meal that won't heat up your kitchen!



Updated from the archives
I can tell fall is just around the corner because I'm starting to think about warm, cozy foods. Granted, it's still in the high 90s/low 100s here most days, but the thought is sure nice, right? I find that making something slow-cooked is a way I can get that warm, cozy taste without heating up my kitchen.
Michael has started a food-request list recently. Each month, he requests usually 2 dinners and a treat. That way, amid trying lots of new recipes, he can sneak in a few old favorites. It's been a good system for us so far, and has given me a chance to re-photograph several of my earliest (read: worst picture) recipes.
This recipe comes from my cute Aunt Kelly. It's been a favorite of mine since I first tried it. It's another recipe with very few ingredients that is VERY low maintenance. You can toss it in your slow-cooker, leave for a day of work, errands, etc., then come home, shred the meat, toast some buns, add cheese, and presto! Sandwiches!
The beauty of this sandwich is that you can turn up the heat if you want to. I am sort of a pansy, so I keep the heat to a pleasant medium-low. But go crazy! Adjust it however you want!
Note: Be careful when buying the peperoncinis. You are not looking for Vlassic pickled banana peppers. I typically buy Mezzetta brand (which I've been able to find in almost every grocery store I've ever been in). Just look for the word peperoncini, and check the package to see if there's a heat guage. I saw some listed as "extra hot" and some listed as "mild" that looked identical. Make sure you get what you are looking for.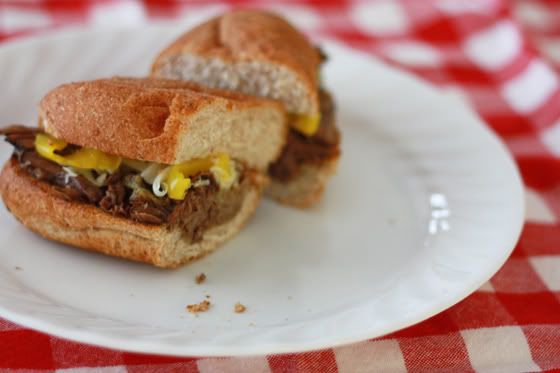 Print
Peperoncini Beef Sandwiches
---
2.5

lbs beef roast (buy whatever's cheapest and gives you the most meat)

1/2

(or more) of a 16oz jar peperoncinis (I sometimes buy deli-sliced)

1

c beef broth
salt and pepper
sandwich buns*
cheese, grated or sliced (go for mozzarella, provolone, swiss or another great cheese)*
optional: extra peperoncini slices for serving
---
Instructions
Trim any visible fat from your roast. Place in the bottom of your slow cooker. Sprinkle with salt and pepper. Place in half a jar worth of peppers (don't include all the juice, just pick out the peppers). If you want a bit more heat, add a few tablespoons of the pepper juice to the crock pot. Pour in beef broth. Cook on low 7-8 hours.
Shred beef, removing any fatty bits. Slice peppers and mix into beef.
For best serving results, toast buns, fill with beef/pepper mixture, and top with cheese and a few extra peperoncinis. If necessary, pop the sandwiches in the oven for a minute or two to melt the cheese.
Savor the goodness.
Notes
*For a gluten free version, be sure to use gluten free buns. For dairy-free, just skip the cheese. No big deal!