Last year, I wanted to make a breakfast treat that really tasted like Christmas. I was happy with the recipe I came up with last year, but when a reader commented that the recipe was pretty similar to my pumpkin waffle recipe, I realized they were completely right!
This year, I've done some recipe testing, playing around with different measurements, and I really think I NAILED it. Gingerbread waffles that absolutely taste like Christmas.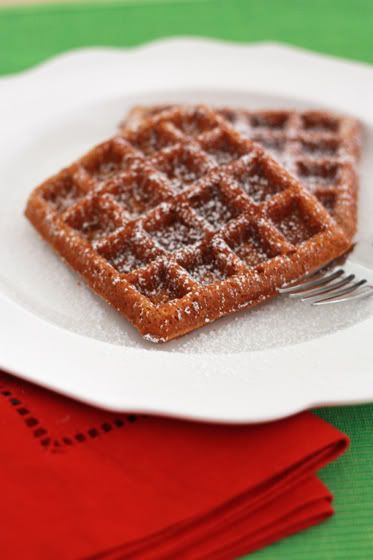 The texture was perfect–light and tender. The spices and molasses really lent themselves to a fantastic flavor. You can adjust the sugar to your taste–use 1/2c for less sweet, and 2/3c for more sweet. Either is great. I loved these with a sprinkle of powdered sugar or with caramel-y buttermilk syrup, but you can certainly use maple syrup, whipped cream, or other favorite topping. Ohhhh yeah.
The recipe made plenty for a family breakfast, but if there aren't many of you eating, you can freeze waffles that have completely cooled and store them in an airtight bag or container. I love having a quick breakfast on a weekend morning later.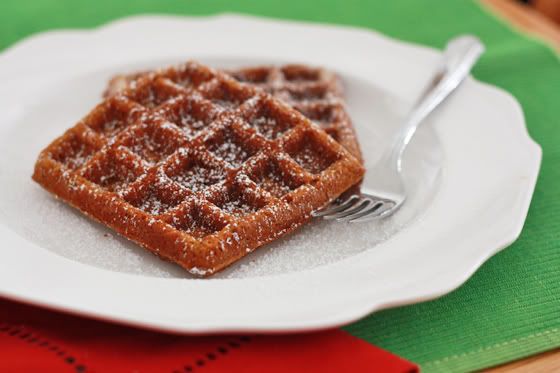 Ingredients
½-2/3c brown sugar (depending on how sweet you want them)
2 eggs, yolks and whites separated
1½c buttermilk (or regular milk + 1½Tbsp vinegar)
½c molasses
6 Tbsp butter, melted
2c flour
3tsp baking powder
1tsp baking soda
2tsp ginger
1½tsp cinnamon
½tsp salt
¼tsp cloves
¼tsp nutmeg
¼tsp cardamom (optional, but recommended)
Instructions
In a small bowl, mix brown sugar and egg yolks until creamy. Stir in buttermilk, molasses, and butter.
Into a large bowl, sift together flour, baking powder, baking soda, ginger, cinnamon, salt, cloves, nutmeg, and cardamom.
In a glass or metal bowl, whip egg whites with an electric mixer until stiff peaks have formed.
Add liquid mixture into sifted dry ingredients and stir together. Fold in egg whites.
Cook according to waffle-iron instructions.
(In my waffle iron, using ⅓c scoops, I made 16 waffles)
Notes
For pancakes: use the same ingredients, just don't separate your eggs or whip your egg whites.