Buttermilk syrup is a phenomenon, dear reader. I'll forever have my incredible Uncle Sam to thank for this recipe. It's almost like caramel sauce. In fact, I've used it on things like spice cake in a pinch. But let me tell you: it will change your breakfast life forever.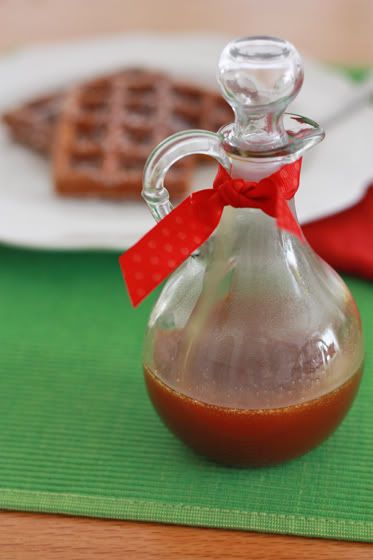 I mentioned this syrup yesterday when I talked about my gingerbread waffles, and I've had the recipe in the archives for a while, but it was in serious need of an update, and I thought the picture was… well… terrible. So, here's a few shots from when we had it with our gingerbread waffles.
I rarely have buttermilk on hand as a regular staple, so if you're not serving this syrup with a waffle or pancake recipe calling for buttermilk (the gingerbread waffle recipe does), feel free to substitute 3/4c regular milk (I always use skim) + 3/4 Tbsp vinegar. I have never once had a problem with either method.
Note: You really do want to use a very large pot for this recipe. The baking soda reacts with the buttermilk, etc., and causes it to bubble VERY high while boiling until removed from the heat. It can be a sticky mess to clean up if you don't use a large pot.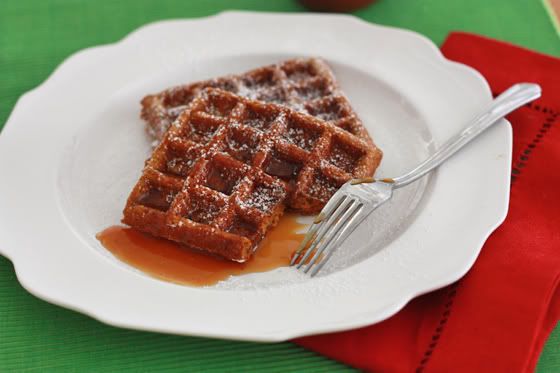 Print
1/2

c butter

3/4

c buttermilk

2 Tbsp

light corn syrup

1 1/2

c sugar

1 tsp

baking soda

2 tsp

vanilla
---
Instructions
In a large pot, combine butter, buttermilk, corn syrup, sugar, and baking soda. Stir and bring to a boil (the syrup will get quite foamy). Boil 6-7 minutes, stirring very regularly. The foamy syrup will turn a golden color. Remove pan from heat. Allow bubbles to settle, then stir in vanilla. Serve warm.
*IF YOU ACCIDENTALLY ADD THE VANILLA WITH THE OTHER INGREDIENTS: don't worry. The vanilla will actually pretty much cook off during the boiling, so just add another 1-2 tsp after it comes off the heat.