blustery day chicken pot pie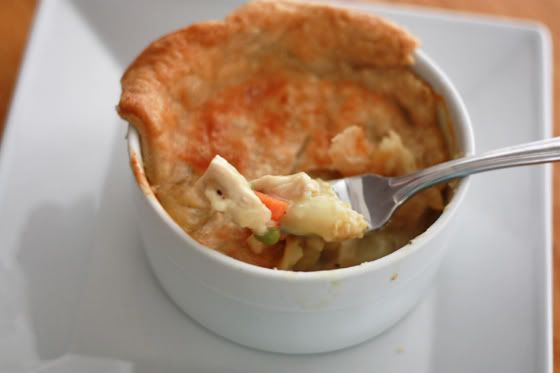 I do this.
A lot.
I get an idea in my head, then end up researching options for weeks. Weeks. So, I'll be honest, I've been after a chicken pot pie recipe since the beginning of October. I found all kinds of options–thickened broth only, canned soup, lots of cream and butter–I just couldn't seem to find what I thought was a good balance.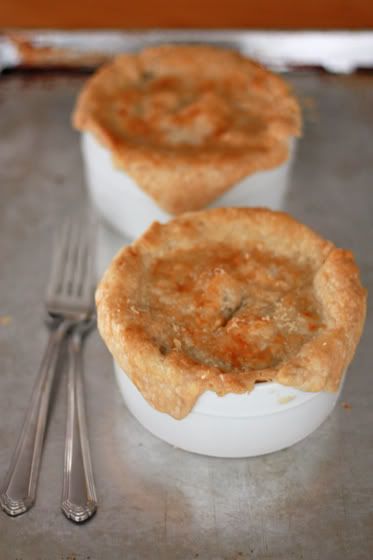 I wanted to try something without cream of chicken soup. I was looking for something your great-grandma who lives on a farm might pull out of the oven on a frosty, blustery night for dinner. Something from scratch with a few teeny fancy embellishments here and there (fresh rosemary and a sprinkle of best-quality parmesan).
I finally found what I think is a good balance. I ended up with a broth thickened with butter and flour and then a little half-and-half. It was creamy and delicious without completely breaking the caloric bank. Plus, with lots of delicious vegetables and tender chicken, I found it really hit the spot.
This time, I opted to make little individual pot pies in ramekins, mostly because I've always wanted to try it, but the recipe should do nicely in a 9″ pie dish. I've written directions for both options below.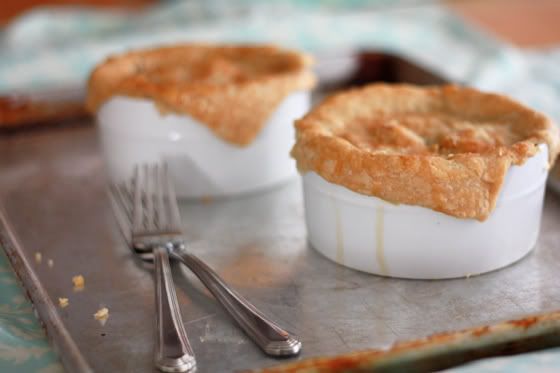 Print
Blustery Day Chicken Pot Pie
---
5 Tbsp

butter

2

c diced, peeled potatoes (this was about

2

medium-large potatoes)

3

carrots, diced or sliced

1

onion, diced

2

stalks celery, diced

5 Tbsp

flour

3

c chicken broth (bonus points for homemade)

2

c chicken, cooked and diced or shredded

3/4

c frozen peas

1/2

c half-and-half
salt and pepper to taste

1/2

–

1

tsp fresh rosemary or

1/4

–

1/2

tsp dried rosemary

1

double pie crust
Optional: egg wash (1 egg + 2tsp milk), parmesan cheese
---
Instructions
In a large soup pot, melt butter over medium heat and add potatoes. Cook 3-4 minutes, then add carrots, onion, and celery. Cook over medium heat 5-8 minutes or until carrots and celery are crisp-tender.
Sprinkle flour over vegetables and stir (mixture will look very thick and a little sandy). Cook 2-3 minutes, then add chicken broth. Stir and cook until thickened. Stir in chicken, peas, and half-and-half. Cook 3-4 minutes longer. Taste and add salt and pepper to taste (be generous). Stir in 1/2tsp rosemary and taste, adding more if desired.
For 9″ pie:
Roll out bottom crust and place in pie dish. Pour filling into pie shell. Roll out top crust and place on top of the filling. Fold ends under and finish edges by crimping or pressing down with the tines of a fork. If using, brush with egg wash and sprinkle lightly with parmesan. Cut 2-3 slits in the top crust with a knife. Bake at 375 degrees 40-50 minutes or until golden brown.
For ramekins:
Scoop filling into ramekins. Roll out crust dough and cut out squares large enough to cover ramekins. Cover top of the filling with dough squares, using as much dough as necessary. If using, brush with egg wash and sprinkle lightly with parmesan. Cut a small slit in the center of each ramekin with a knife. Bake at 375 for 30-40 minutes or until golden brown.