chicken meatball stroganoff
Chicken Meatball Stroganoff with a sauce so good you'll want to eat the leftovers for breakfast. Seriously.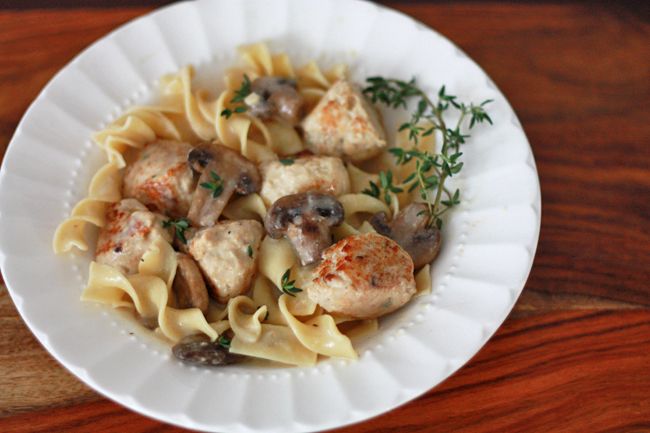 I know, friends. I really do know. I just posted a meatball/pasta recipe.
However.
Sophie went gaga for the meatballs, and she HATES meat, so I wanted to see if it was a meatballs thing or a those meatballs thing. Turns out, girlfriend likes more than one kind of meatballs. Woot!
I don't blame her.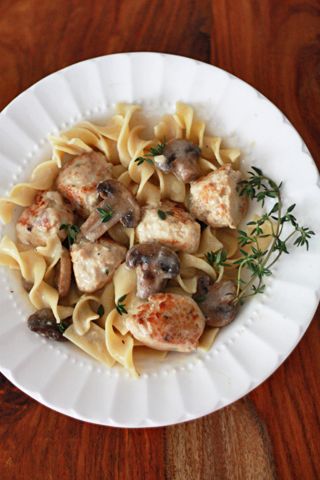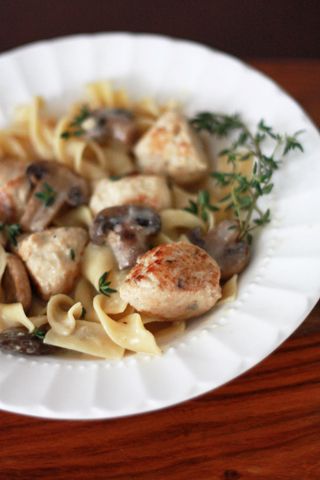 It may not be the fanciest thing you've ever made, but it's delicious, homey, and comforting. As an added bonus, there's no cream of something soup, no heavy cream, and it's very kid-friendly. Because this is a more mild meal, I think it would make a great meal to take to a friend recovering from surgery, someone who has a new baby at home, or for friends you know have picky eaters.
I'm not kidding when I tell you she just gobbled these up. As in third helpings. And the next morning, that was all she wanted for breakfast. BREAKFAST!
A few notes on the recipe:
* I've written the directions to include a full pound of mushrooms. If you've got haters at your house, you can half or skip this amount. Sophie and I just LOVE them!
* You may also notice the directions specify to halve the meatballs after they've been browned. I did this for convenience and for better meatball-to-everything-else distribution. If you prefer, go ahead and leave them whole.
* If you prefer turkey to chicken, feel free to substitute it. I'm a crazy pregnant person who has issues with ground turkey.
* Lastly, if you're not an egg noodle person, feel free to serve this over rice or even mashed potatoes instead.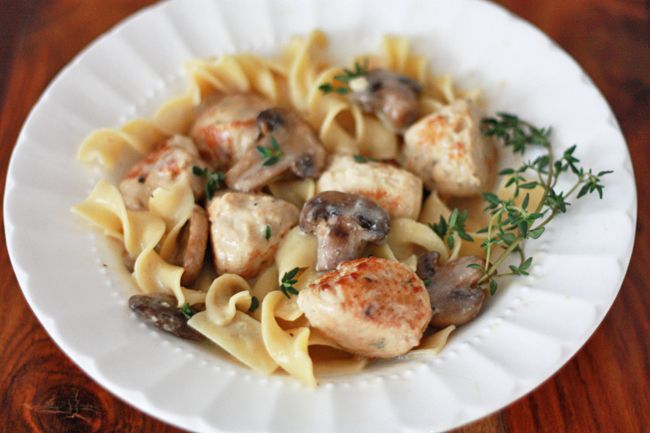 Print
Chicken Meatball Stroganoff
---
For the meatballs:
1 1/2

lbs ground chicken breast

1

slice bread, crusts removed and torn into small pieces (I used wheat sandwich bread)

1/2

c finely minced onion

2 Tbsp

milk

1 tsp

Dijon mustard

1 tsp

fresh thyme

1/2 tsp

salt

1/2 tsp

pepper
olive oil
For the sauce:
1

lb mushrooms, sliced

2 Tbsp

butter

1

clove garlic

2 Tbsp

flour

2 1/2

c chicken broth

1/4

c sour cream

1 1/2 Tbsp

Dijon mustard
salt and pepper, to taste
To serve:
8oz

egg noodles, cooked according to package directions
additional fresh thyme, optional
---
Instructions
For the meatballs:
To make meatballs, combine chicken breast, bread, onion, milk, mustard, thyme, salt, and pepper in a large bowl. Toss with a fork until combined and smooth, but try not to over-mix. Using your hands, or a small scoop, form the mixture into 1 1/2″ meatballs (I usually get 20-24).
Heat a drizzle of olive oil in a large saute pan over medium heat. Working in batches, so as not to overcrowd them, add meatballs to the pan. Cook until well browned and cooked through, turning regularly and adding more olive oil as necessary (this took me about 8-10 minutes per batch). Transfer cooked meatballs to a plate and repeat with remaining meatballs.
Add the mushrooms and butter to the same saute pan and cook over medium heat, turning often, until mushrooms are golden and cooked through. If mushrooms begin to stick, feel free to add a little more butter or a small drizzle of olive oil. Add garlic and a pinch of salt and pepper and cook 1 minute more. Sprinkle flour over the mushroom/garlic mixture and stir to coat well. Pour in chicken broth and stir to scrape up any browned bits from the pan. Cook over medium heat 5-7 minutes, or until sauce has thickened somewhat.
Whisk in sour cream and Dijon mustard until smooth. Taste sauce and add additional salt and pepper as desired.
If serving to children or for ease of serving, slice meatballs in half. Return meatballs to the skillet and stir to coat with sauce. Add noodles to the pan and stir to coat. Top with an additional sprinkle of fresh thyme for garnish, if desired.
Recipe Adapted from Start Fresh, by Tyler Florence (I LOVE this book! It goes from first purees through toddler foods)