home base pad thai (gf, df)
Home Base Pad Thai – A great starter recipe just begging for variations–chicken, shrimp… make it your own!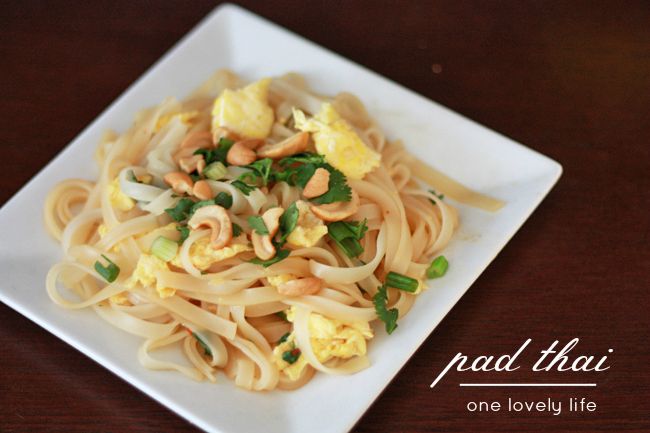 I call this home base pad thai because it's the safe house. The starting place. The jumping point for all other fun variations. Toss in some shrimp for shrimp pad thai. Add some bean sprouts for veggie pad thai. See? Home base.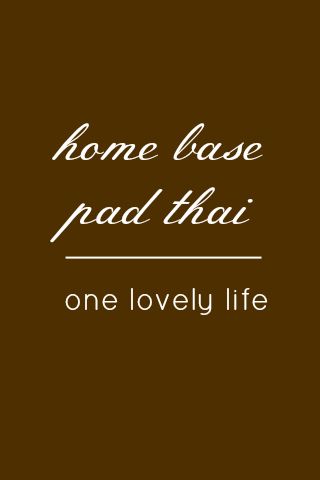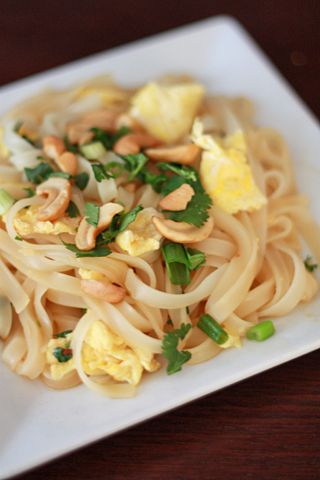 If, like, me you've been scared of fish sauce, don't be! I was really–REALLY–nervous. I had a bad experience with oyster sauce once, and I've been nervous about fish sauce. There are so many recipes I've skipped over for fear of the dang fish sauce! All these years, wasted! It was no big deal! It added a saltiness and a really nice little something to the dish. I plan on trying many of the recipes I've passed over, since I enjoyed it so much.
As for ingredients, there's nothing particularly fancy-pants in this recipe, which is another reason it makes a good starting point for variations, but here are a few tips for ingredients…I bought Thai Kitchen brand fish sauce (available in MANY markets and even my Wal-Mart and Target). Also, wide rice noodles can be sort of tricky to find (my grocery stores just started carrying them), but I've actually had my best success finding them at Target. A Taste of Thai or Thai Kitchen brand both work nicely. If you're gluten-free, I've had good luck with San-J brand gluten-free tamari (which I'm seeing everywhere these days). None of these brands know or care who I am, I just wanted to pass along what I've had success with.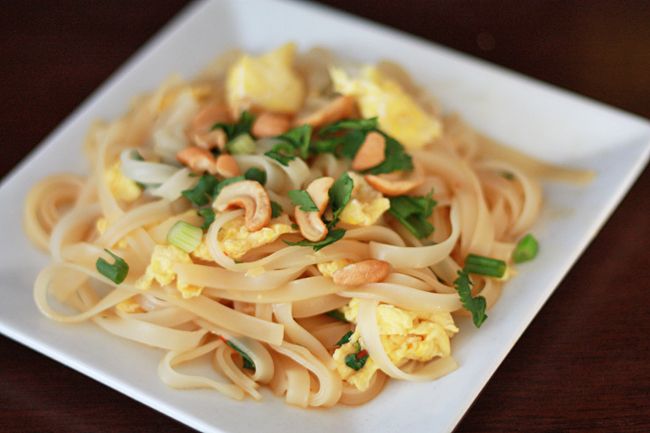 Print
Home Base Pad Thai
---
Description
This is a great starter recipe that provides a good base for variations. Feel free to add in a bit of shrimp or some bean sprouts to make it your own.
---
8oz

wide rice noodles

1/3

c fresh lime juice

1/3

c water

2 Tbsp

soy sauce (or gluten-free tamari)

2 Tbsp

fish sauce

1 Tbsp

brown sugar

1 Tbsp

Asian sweet chili sauce, or a dash of Sriracha
olive oil

2

eggs, beaten

1/4

c cilantro, minced

3

green onions, sliced

3

–

4

Tbsp cashews, roughly chopped
For variations:
1/2

lb shrimp, peeled and deveined or

1

heaping cup bean sprouts
---
Instructions
Place rice noodles in a large bowl and cover with the hottest tap water you can get. Allow noodles to soak in water for 25-30 minutes, or until tender (but not mushy). Drain.
While the noodles are soaking, prepare the sauce by whisking lime juice, water, soy sauce or tamari, fish sauce, brown sugar, and sweet chili sauce or Sriracha. Set aside while you cook the eggs.
Heat a small drizzle of olive oil in a large saute pan over medium heat. Pour in eggs and cook, without scrambling, in a large egg pancake/open omelet shape. (The egg layer will be thin) As soon as it looks cooked through, remove egg pancake from the pan and place on a cutting board. Chop into strips or cubes.
(Note: if adding shrimp or sprouts, heat another drizzle of olive oil in the same pan used to cook the eggs, and add them here. Cook over medium heat until shrimp are opaque or sprouts are heated through. Remove from pan and set aside with eggs.)
In the same pan used to cook the eggs, add prepared noodles, egg, and sauce. (If using shrimp or sprouts, add the cooked shrimp or sprouts here as well.) Toss to coat everything well. Top with cilantro, green onion, and cashews.
Notes
For a gluten-free version, I use San-J Gluten Free Tamari sauce. Also, double check that your sweet chile sauce is gluten and dairy free. Thai Kitchen brand is a good choice.