mom's sweet christmas chex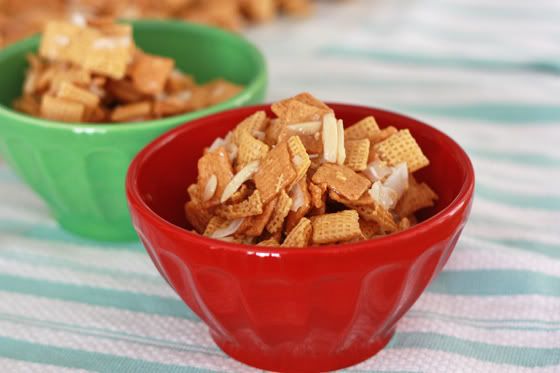 'Tis the season for holiday baking, tasting, and merry-making! What do you give out for the holidays to friends and neighbors?
This year, we've done Bratzeli cookies (Michael's family's favorite Swiss cookies made in a press), dipped ginger cookies, and we're rounding out/finishing up our treat-making with my mom's sweet Christmas Chex, affectionately referred to as "Tub-o-Chex."
I'm really not one for the traditional savory Chex mix. I just don't really care for it. Like… at all. But give me some sweetness, coconut, almonds, and graham flavors, and I'm all in.
There are roughly 9,286,428 recipes for sweet Chex mix, and (like almost everyone who makes it) I think my family's recipe is the best. I may or may not be biased. I'll leave that up to you once you've tried and tasted ours.
Anyway, it is by no means a health food. It's a definite treat, but a fun one! My grandma makes this when she has a crowd over to watch college football games, and my mom gives it away for Christmas. It's perfect for both.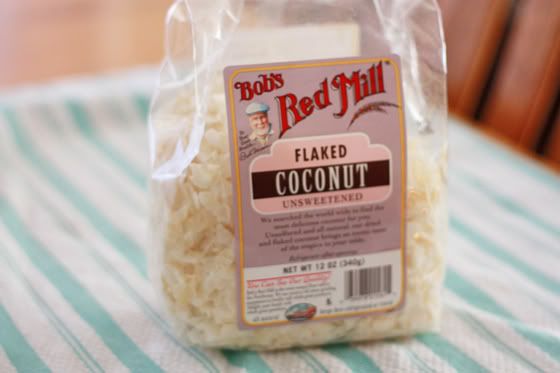 A few notes on the recipe: I find it's plenty sweet already, so I use coarsely grated unsweetened coconut. I can usually find it in the bulk section at the grocery store, but Bob's Red Mill also makes it and sells it. If you can't find it, or prefer to use the finer, sweetened kind, feel free. Also, there's no need to buy the brand-name cereals if you're in a pinch. I've used two different store brands and not noticed any difference at all in the end result.
This recipe does make a LOT of Chex mix. I don't have one ginormous bowl, so I divided the cereal mixture between two of my largest bowls and then divided the syrup mixture between them. It worked like a charm. Since it is a sticky, gooey treat, if I'm packaging it to give away I let it sit out for about 8-12 hours to help it not be quite so sticky. (My mom will often make hers the night before she's going to give it away, or you can make it in the morning and let it sit out all day.)
I give you fair warning: if you spread it out to dry, prepare yourself for the irresistible urge to nibble at it every time you walk past.
Not that I know from experience.
Guilty as charged,
Emily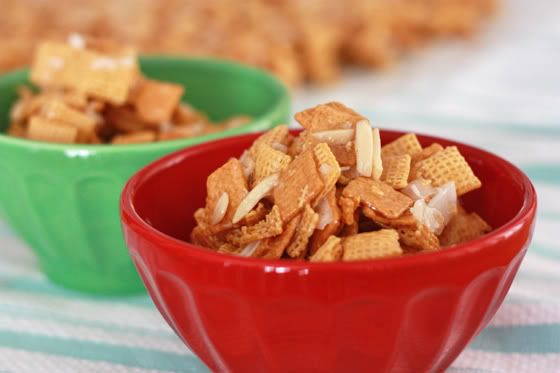 Print
Mom's Sweet Christmas Chex
---
1

(14oz) box corn Chex cereal

1

(12oz) box graham cracker cereal (like Golden Grahams)

2

c coarsely grated coconut (I prefer unsweetened)

1

generous cup slivered almonds

2

c sugar

2

c corn syrup

1

c butter

1 tsp

almond extract
---
Instructions
In one or two of your largest bowls, combine cereals, coconut, and almonds. Make sure you'll have plenty of room to toss the cereal mixture with the warm sugar syrup mixture.
In a large saucepan, combine sugar, corn syrup, and butter. Cook and stir over medium heat until the mixture comes to a boil. Boil for 2 minutes, then remove from the heat. Stir in almond extract and pour over cereal mixture. Toss to coat well.
If packaging to give away, or if you don't want it quite so sticky, spread Chex mix out over parchment or waxed paper to dry. Allow to dry up to 8-12 hours before packaging.