smothered cowboy salisbury steaks
Don't ask me why these are called cowboy salisbury steaks. Cowboys eat real steaks. That are the size of their heads. Still, I think the name is charming and I loved it. What you're looking at (pardon the low lighting) are salisbury-style steaks with a yummy sauce, caramelized onions, and delicious, heavenly mushrooms.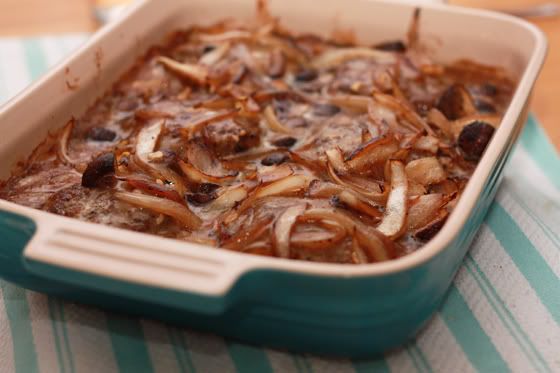 Much like my fear of deep-frying, I'm sort of afraid of cooking steaks. Mostly because I don't really KNOW much about steaks. Or cooking them. We didn't eat steak growing up. I'd never even tried a steak until I was a senior in high school at a friend's birthday dinner. We just didn't do it.
Starting the second half of last year and even more so now, I've been trying to eat higher quality meats. Mostly up to this point, this means organic chicken and sustainably caught fish. I've had a hard time finding grass-fed beef available in my area (without buying an entire half of an animal–I just don't have the freezer space), so our "better beef" searches have been mostly fruitless.
Last week, I saw, right at my local market, perfectly portioned 100% all grass-fed organic ground beef. I'm not really much of a ground beef person, but when I saw it in the store after all my high and low searching, I picked some up and decided to make salisbury steaks. I had great inspiration from this site, and knew they'd be great.
We have a shocking lack of man food at home, and I knew my meat-and-potatoes loving husband would appreciate it. The meal felt very homey and old-timey, and maybe that's where the 'cowboy' part of the name comes in. I relied on simple ingredients and even an onion soup mix (which I don't use often). The results were simple and delicious, especially when paired with mashed potatoes to use up some of that extra sauce.
I can't even begin to tell you how great the mushrooms were! Michael is NOT a mushroom fan, so I kept the pieces big enough that he could easily put them on my plate instead. It's a good method that worked well for us.
A note on the onion soup mix: I found an MSG-free organic soup mix to use this time, but if you want to make your own, you can combine 3/4c dried minced onion, 1/3c beef bouillon (msg-free), 4 tsp onion powder, and 1/4tsp sugar. 5 Tbsp of this mix is equal to 1 packet of soup mix.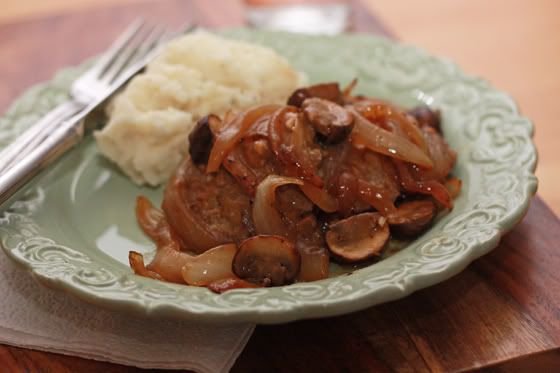 Print
Smothered Cowboy Salisbury Steaks
---
For Salisbury Steaks:
1

lb ground beef

1/2

packet dry onion soup mix (or

2 1/2 Tbsp

homemade)

1/2 tsp

salt

1/2 tsp

pepper

1/4 tsp

garlic powder

1/4

c milk

1/4

c fresh bread crumbs

1

egg

1 1/2 Tbsp

Worcestershire sauce, divided
For Sauce and Toppings:
2

–

3

Tbsp olive oil

2 Tbsp

butter

1/2

lb baby bella (or cremini) mushrooms, halved or quartered, if large

1

onion, sliced

1

clove garlic, minced

2 Tbsp

flour

1 1/2

c beef broth (can use

1 1/2tsp

bouillon and 1 1/2c water)
---
Instructions
In a medium bowl, combine ground beef, soup mix, salt, pepper, and garlic powder. Add milk, bread crumbs, egg and 1 Tbsp Worcestershire sauce and mix with your hands until combined (try not to over-mix, as this can make the patties tough). Divide into 6 equal portions and shape into patties.
In a large saute pan, heat 2 Tbsp olive oil and 1 Tbsp butter over medium-high heat. Working in batches, brown the patties on both sides and place in a 9×13″ baking dish. Set aside and reduce heat to medium. Add mushrooms to the pan and cook 4-5 minutes or until browned and tender. Season with salt and pepper and sprinkle over the patties.
Return pan to medium heat and add onions. Add a little more olive oil if necessary to keep the onions from sticking. Cook onions until golden and tender, about 5-6 minutes. Season with salt and pepper and sprinkle over the patties.
Add remaining butter, olive oil, and the flour to the pan. Stir over medium heat 1-2 minutes. Pour in beef broth and remaining 1/2 Tbsp Worcestershire sauce and stir to dissolve flour mixture. Cook 3-4 minutes over medium heat or until thickened to desired consistency. Pour gravy over patties, mushrooms, and onions.
Cover baking dish with foil and bake at 375 degrees for 30 minutes. Serve warm with your favorite side dishes.
Adapted from Jane Deere