parmesan roasted potatoes (gf)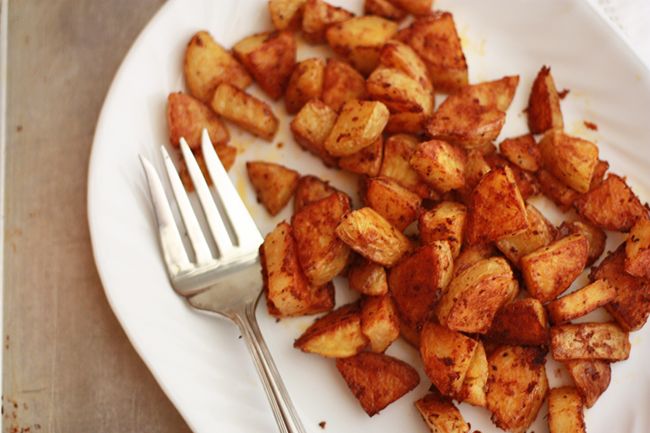 I can't help it. I've been loving roasted potatoes. First, those delicious smoked paprika potatoes, now these yummy, crispy parmesan ones.
Why, yes, the temperatures are still in the triple digits? Why do you ask? Oh…right. Well, these are tasty enough that they're worth it. Really, really worth it.
Friends, dairy is back in my life. After 14 very long weeks without a single bite of cheese, yogurt, butter, or even breads or crackers that have milk in them, dairy is back! I can say this with reasonable confidence, since after 10 days, Sophie has shown no negative reaction. Hallelujah!
My first taste of Parmigiano Reggiano in three months was a close-your-eyes-it's-so-good experience. Oh, cheese, how I've missed thee!
I digress. Back to the potatoes.
I used regular paprika for these, but if you'd like, you could certainly use smoked paprika if you prefer. I just wanted the cheese flavor to shine through. And it did! As for the potatoes, I used Yukon Golds for this recipe, but red potatoes would be lovely too. Turning them regularly on the baking sheet helped them brown very evenly, and the cheese crisped up nicely as a sort of crust. These were great paired with creamed spinach for a Meatless Monday meal, but they'd certainly be great as a side dish to your favorite meaty main. Enjoy!
Print
Parmesan Roasted Potatoes
---
4

medium potatoes, skins on, scrubbed and diced*

2

–

3

Tbsp olive oil

1/2

c grated parmesan

1 tsp

garlic salt

1/2 tsp

paprika
salt and pepper to taste
---
Instructions
In a large bowl, toss potatoes with olive oil, parmesan, garlic salt, and paprika. Spread potatoes out on a large baking sheet.
Bake at 425 degrees 30-40 minutes, stirring potatoes every 10-15 minutes for even browning. Sprinkle with salt and pepper to taste and serve warm.
Notes
*The most important thing is to keep the potato pieces about the same size so they cook evenly. I like to slice the potatoes in half lengthwise, then slice each half lengthwise again, then dice. I end up with 16-20 pieces per potato. You can end up with more or fewer, just try to keep the pieces the same size.