pasta with creamy roasted red pepper and basil sauce (gf)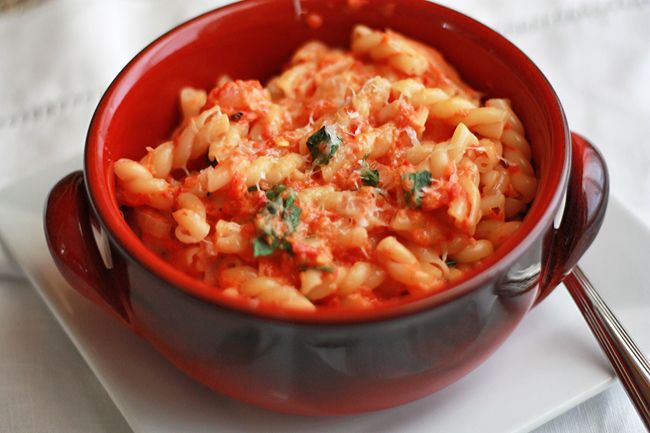 Are you a pepper person, dear reader? Fun fact: I didn't even know I liked bell peppers until I went to college and really, truly discovered cajun food. There are few flavors in life I relish more than peppers, onions, and a hot spicy sausage in a steaming bowl of gumbo, jumbalaya, or dirty rice.
Once I learned that bell peppers were amazing, I started trying them in all kinds of foods–in fajitas, in balsamic relish over green beans, and in pasta sauce.
Which is why when the idea of roasted red pepper sauce came across my radar, I knew it would be fantastic.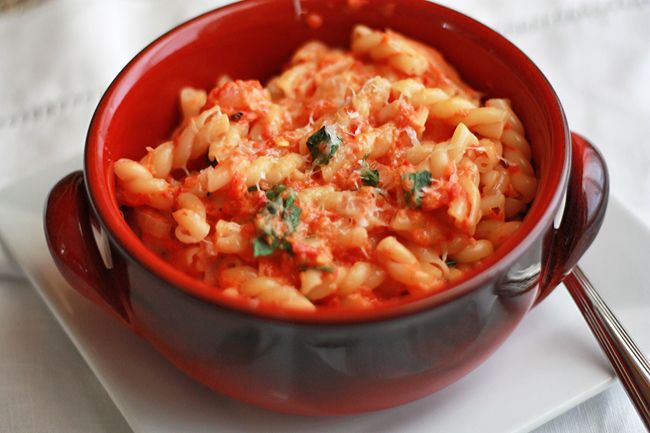 Ree Drummond (the Pioneer Woman) has yet to lead me astray, so I knew her recipe for pasta with a creamy roasted red pepper sauce would be a winner. Plus, I'm on a "let's choose recipes that include a little dairy" kick now that it's back in my life.
Although I've loved and missed dairy, I've found that I often just want to use it as a garnish now, rather than the basis for a dish. This recipe includes a splash of cream and a sprinkle of parmesan on top for just a touch of richness, but it still feels pretty light and delicious.
I've adapted the original recipe, omitting pine nuts, decreasing the amount of cream, and adding fresh basil. I loved how the freshness of the basil came through the red pepper sauce–perfect for a meatless monday!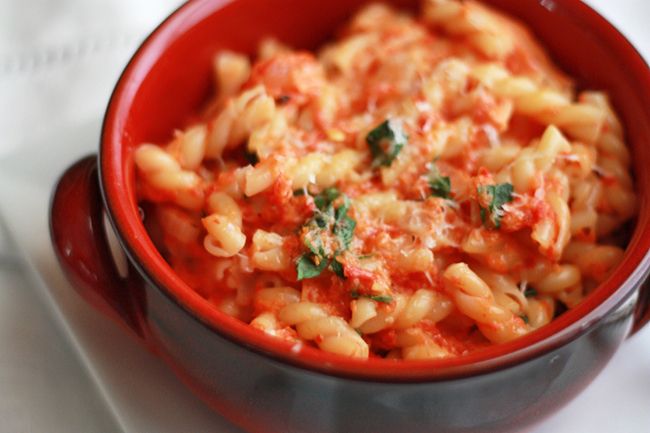 Print
Pasta with Creamy Roasted Pepper and Basil Sauce
---
3

red bell peppers

1/2

onion, diced

2

cloves garlic, minced
olive oil
salt and pepper to taste

1/4

c cream, or half-and-half

1/4

c fresh basil, minced

1/2

lb. small pasta, such as rotini, fusilli, or gemelli (glu

ten

free, if necessary)
fresh parmesan, to taste
---
Instructions
Cook pasta, according to package directions.
Meanwhile, on a gas burner or in the broiler (I used the broiler), roast peppers until they are charred well on the outside. Be sure to rotate peppers often, so that they blacken evenly. Remove peppers from burner or broiler and place in a paper or plastic bag to steam for about 10 minutes to loosen the skins.
Scrape off charred skin, remove stems, and scrape out seeds. Puree peppers in a blender or food processor until smooth, almost like a pesto.
In a medium saucepan, saute onion in a drizzle of olive oil until tender and translucent. Add garlic and cook 1-2 minutes longer. Stir in red pepper puree, cream, and basil until smooth. Taste and season with salt and pepper to taste.
Toss pasta with sauce and stir to coat. Top with parmesan to taste.
Adapted from The Pioneer Woman