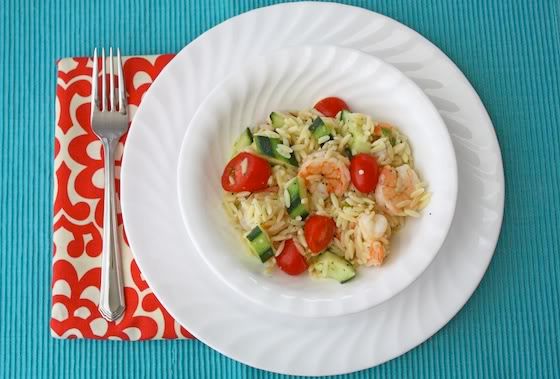 I just got back from a trip to Disneyland…sigh… what a happy place. Well, having several hours in the car each way, I brought a stack of cookbooks to go through again. My favorite Barefoot Contessa cookbook made the trip and I found myself flipping back to her shrimp and orzo salad recipe over and over.
My only hangup? 1 CUP of fresh dill AND 1 CUP of parsley. That's a lot of herbs, my friend. It looked like too much. It sounded like too much. And I just couldn't take it. So, I decided to remake this recipe when I got home.
I used 2 good tablespoons of dill and no parsley, and I've got to tell you, there was plenty of flavor going on. I adjusted a few other things, leaving some things out and adding some things in. I think I ended up with exactly what I was hoping for in this recipe.
I also learned that roasting shrimp really DOES make them amazing. I put them in at 450 degrees for 5-6 minutes and they were SO good–not overcooked, not rubbery, just tender and succulent. Thanks for the idea, Ina!
*Notes on the recipe: If you're nervous about using up the rest of the dill, you can actually freeze it! I love this solution. I'm not wasting it and I don't have to eat dill everything for the rest of the week. Hallelujah!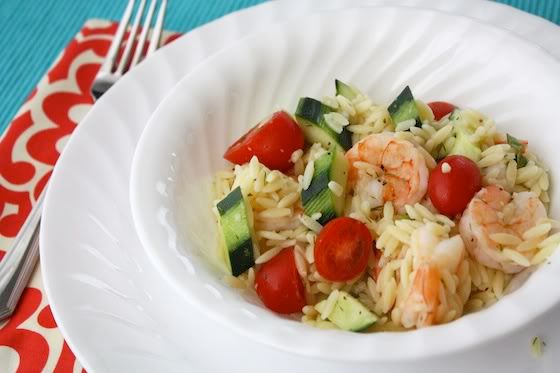 Lemon Dill Shrimp & Orzo Salad
Ingredients
2c dry orzo
1lb shrimp, peeled, de-veined, and tails removed
olive oil
salt and pepper (I like coarse)
¼c fresh lemon juice (from 3-4 lemons)
2 Tbsp fresh dill
2 green onions, diced
1 clove garlic, minced
1c cherry or grape tomatoes, halved if large
1 English (hothouse) cucumber, halved lengthwise and diced
Instructions
Bring a large pot of water to a boil. Add 2-3 teaspoons of salt to the water and add in the orzo. cook 8-10 minutes or until tender but still somewhat firm (just not mushy). Drain.
Meanwhile, toss shrimp with 1-2 Tbsp olive oil and spread out on a baking sheet. Sprinkle with salt and pepper. Roast at 450 degrees for 5-6 minutes or until pink and opaque. Allow to cool.
Add lemon juice, dill, green onions, and garlic to a large bowl. Add a small drizzle of olive oil to the bowl (I did a one-count). Whisk to combine. Add shrimp and their juices. Add in orzo, tomatoes, and cucumber. Toss to combine well. Add salt and pepper to taste.
Serve room temperature.
adapted from Barefoot Contessa At Home